New Home Sales Dropped to New Historic Low in February
So much for the theory that new home sales are stabilizing at a very low pace. In February, they dropped by 16.9% to a seasonally adjusted annualized pace 250,000. This is the lowest rate of monthly home sales since the Census Bureau began keeping records in 1963. It was also well below analysts expectations of 290,000 sales. Today's news foreshadows a brutal 2011 for the home building industry.
First, here's some history: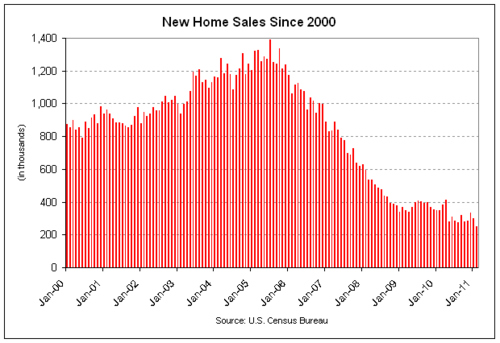 You can see that February's tally sunk well below even the previous low hit in August 2010 of an annual pace of 274,000 new home sales. When considering the numbers for January, it had looked like sales were stabilizing at or slightly below the 300,000 per year rate. February's weak sales tally casts doubt on that theory however.
On one hand, the drop in new sales is a little surprising. After the home buyer credit expired last spring, new sales plummeted. The expectation was that sales would pick back up a little after six months or so. The amount of buying activity pulled forward by the credit was throught to have been limited to only impact sales for a certain number of months. But 10 months after the credit's expiration, new sales hit a fresh low. Demand must really just be that weak for new homes.
On the other hand, new home sales should be extremely low. There's a huge amount of existing home inventory out there, much of it distressed. That means lots of great deals can be found on existing homes, which might make buying and doing a little renovation on an existing home relatively cheaper than buying a new house. Since prices have begun declining again, discounts are likely growing on existing homes, which makes buying a new home instead an even less attractive option.
While this news might be extremely disheartening for the struggling construction industry, it's actually positive for the housing market. Fewer new home sales mean that the little buying that's occurring right now will exhaust the existing inventory more quickly. The housing market can't stabilize until the number of existing homes on the market hit a lower, more normal level to better meet demand. As foreclosure auctions and other distressed sales continue to occur in high numbers, a higher rate of new home sales would only make those existing houses harder to sell, pushing down home prices even further.
Of course, last month's very low rate of sales could just be a blip. But even if new sales rise a little in March, a meaningful recovery is clearly not taking place in the market for new homes. The possible stabilization hypothesized last month, around the relatively weak annualized rate of 300,000 new home sales, must suddenly look pretty good to home builders after today's news of just 250,000 sales in February.