Leading Indicators Continued to Brighten in February
Despite rising gas prices and a still struggling housing market, leading indicators improved in February. The Conference Board's Leading Economic Index increased by 0.8% last month. It has grown relatively steeply since mid-2010. Although this index implies that the U.S. economy should continue to expand at a moderate pace, it doesn't take into account a big negative shock from March: Japan's natural disaster.
The chart from the Conference Board provides a pretty clear picture of what's been going on with the LEI recently: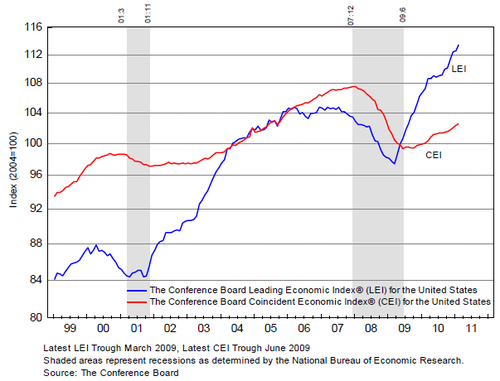 You can see the very steep growth in the LEI (blue line) from mid-2008 through late-2009. Then there was a slowdown early last year. The growth then resumed at a similar clip as before in the second part of 2010.
Of the 10 indicators that make up the LEI, only two worsened in February: new housing permits and new orders for manufacturers. As the home building market continues to struggle, it remains a drag on the index. Its brought down the LEI by 0.22%. But the other weak indicator, new orders for manufacturers, barely ticked down -- by just 0.04%. While there isn't reason to fret over a decline that small, it would be more comforting to know that manufacturers' orders are growing instead.
The most significant positive contributor of the other eight was the interest rate spread. Rates continue to be a huge part of why the LEI is rising. The second strong indicator was employment. Initial unemployment claims continued to decline last month. Those two contributors made up nearly 75% of the index's growth in February, in nearly equal parts. Other positive indicators had smaller contributions.
While the index implies a bright future, we know that a huge negative shock hit last week when Japan experienced a terrible earthquake. That isn't accounted for in this report. The question isn't really whether it will have a negative impact, but how significantly it will dampen economic activity. Moreover, if tensions in the Middle East continue to push up gasoline prices, then consumer sentiment may also fall, which would also hurt the recovery.
To be sure, February's report of Leading Economic Indicators looks mostly good. But it doesn't take into account obstacles that the recovery faces this month. Will they be significant enough to knock the U.S. off its path?