Japan Is a Humanitarian Disaster, Not a Global Economic Crisis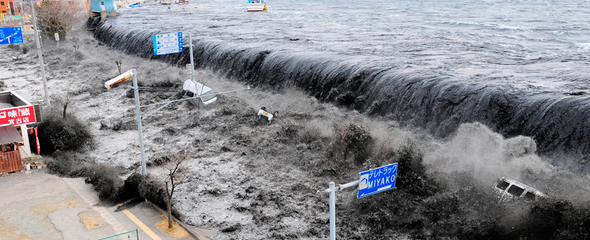 This morning, the stock market collapsed 300 points within minutes of the bell, sparking a panic among investors who worried that the Japanese earthquake could slow the steady performance of US companies and consumer spending.
They should stop panicking. Indeed, many already have. The Dow has recovered 150 points of its initial fall. The fires and floods in northern Japan are a humanitarian tragedy, but there is no reason to think they mark the beginning of global slowdown. Here are three reasons why.
First, Japan's economy is huge, and the most devastated region's share of the economy is not. The areas most affected by the quake account for about two percent of Japan's GDP, according to Macquarie Research. Put another way, two percent of U.S. GDP is about $300 billion, or half the economy of Chicago. If any sectors feel the impact in their bottom lines, it will likely be electronics and cars makers, since Japan accounts for 20 percent of the world's semi-conductor production.
Second, Japan is rich. As I wrote yesterday, the cost of a cleanup should not appear in Japan's bond yields, thanks to willing and wealthy lenders (savers) throughout the country. Whereas the U.S. has to borrow overseas and expose ourselves to international bond markets, Japanese citizens are willing to lend the government money at lower interest rates. What's more, the country controls its own currency, which has allowed the central bank to plow $180 billion into equity markets to support the economy.
Third, Japan is a large exporter. That means that while it relies heavily on global growth to sell its goods, the world does not rely equally on the Japanese consumer to buy its goods. Even if Japan's production shock slows demand, the impact on world growth should be small.
The upshot: The images of Japan are tragic and the damage long-lasting. But Japan's impact on markets should be neither. On the other hand, the impact of turmoil in the Middle East could be both. Unrest in the Middle East has a tendency to reveal itself at the pump. Indeed, high oil prices have triggered three of the last five recessions, Nouriel Roubini points out. Gas prices are already up 30 percent in the last year and a barrel of oil is trading around $100. At $110 -- just a 10 percent rise from today -- gas prices could start to impress themselves on what was looking to be a banner year for the U.S. recovery.
Image: Mainichi Shimbun/Reuters