Is the U.S. Becoming a Welfare State?
Uncle Sam has been aggressively increasing Americans' allowance recently. Government entitlement programs have grown to account for 35% of wages, according to a new analysis by Madeline Schnapp, director of macroeconomic research at investment research firm TrimTabs. The magnitude of government assistance has increased in large part due to high unemployment. But she argues that even when unemployment declines, we aren't like to see this percentage drop much.
Here's the key chart from Schnapp, which shows the percentage of social welfare benefits, from programs such as Social Security, Medicare, Medicaid, and unemployment insurance, as a percentage of total wages and salaries (based on data from the Bureau of Economic Analysis):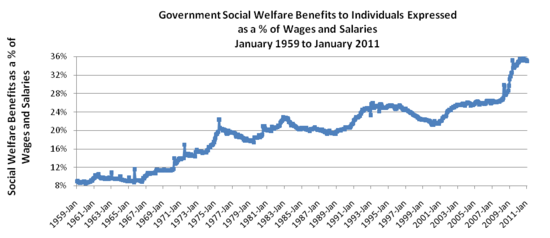 Before focusing on the current ratio of government transfer payments to total wages, what happened from 2001 through 2002? At that time, transfer payments rose from about 21% to 26%. That appears to coincide with the recession that occurred during that time. Although unemployment eventually declined back down to 4.4% after rising to 6.3%, transfer payments remained steady around 26% of wages. Then, they rose to 35% during the recent recession, where they remain today.
While some might expect this ratio to decline as the unemployment rate wanes, that isn't what we saw in the last recession. And Schnapp remains unconvinced that we'll see transfer payments decline all the way back to pre-recessionary levels even when we reach full employment again in a couple of years:
What would it take to bring the ratio of social welfare benefits to wages and salaries back to its pre-recession level of 26%? Either wages and salaries would have to increase $2.3 trillion, or 35%, to $8.8 trillion, or social welfare benefits would have to decline $500 billion, or 23%, to $1.7 trillion. Neither of these scenarios seems likely. The economy is not growing rapidly enough to generate extraordinary growth in wages and salaries, and the oldest of the 78 million Baby Boomers turn 65 this year and are eligible for Medicare.
Her last point is key -- and it might explain why we saw this ratio begin rising a decade ago. As baby boomers continue to age they increasingly rely on government payments through programs like Social Security and Medicare. So even when the millions of jobless Americans do find work, the government unemployment insurance they leave behind might be picked up by retirees.
At 35%, the U.S. in entering European territory. Schnapp says that transfer payments in the U.K. are currently around 44% of wages and salaries -- but that's up from 36% in 2007, before the global recession hit. So if this ratio remains around 35% in the U.S. even after the unemployment rate declines, then the U.S. government's transfer payment burden will, indeed, begin to resemble that of a European welfare state.