How Japan's Disaster Could Reinforce the Global Recovery
Global stocks have returned to pre-quake levels on news that the Bank of Japan and the G7 have come together to pump life into the economy and fortify the Japanese currency for the time being. The reconstruction effort in northern Japan will be long and expensive and the loss of human life and possessions is already catastrophic [Learn about the disaster by the numbers here.] But in the long run, Japan's rebuilding will probably reinforce, rather that sap, the fundamentals of the world's multi-speed recovery.
The great double-edged swords of the world economy is the rapid growth of the developing world and Federal Reserve's massive infusion of money, which has buffeted U.S. investment ... at the risk of fueling asset bubbles in those same developing countries.
The middle class ascendancy of hundreds of millions of developing world families has pulled up food prices around the world, especially in India and China: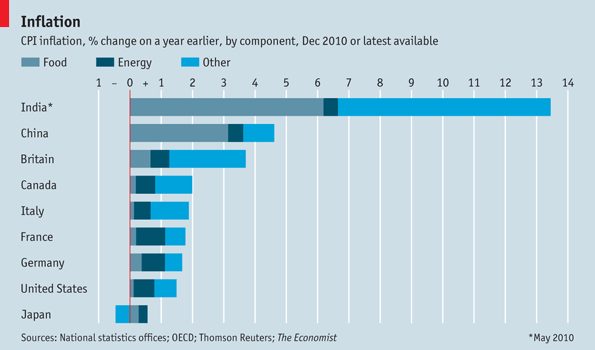 Source: Economist
Meanwhile as the rising price of foodstuffs presses down on families, the rising price of commodities is lifting growth across the world, both in metal-rich countries (like Latin America and Australia) and companies who dig them out (like America's Bucyrus and Caterpillar). East Asia's share of world demand for leading metals like aluminium, copper, zinc, lead, nickel, and crude steel is more than 50 percent.
Japan's need for commodities to rebuild will shift from commodities needed to build durable goods (with cars and chip factories down) to commodities needed to build bridges, roads, homes, and commercial buildings. Unexpectedly, Japan's disaster might only reinforce the commodities boom driving global growth.