Graph of the Day: Is Web News Crushing Cable TV?
All three major cable news channels lost viewers in 2010, with CNN shedding more than a third of its audience. Meanwhile four in ten Americans now say they get "most of their news" from the Internet, up from 24% in 2009. For the first time ever, we prefer our news from pixels rather than paper.
The picture above makes it look like Web is the beast eating everybody else's lunch. But don't cry for old media, just yet. Ad revenue bounced back in a big way in 2010 across the board (unless your in newspapers), with local TV leading the way and cable getting a healthy boost despite a tough year.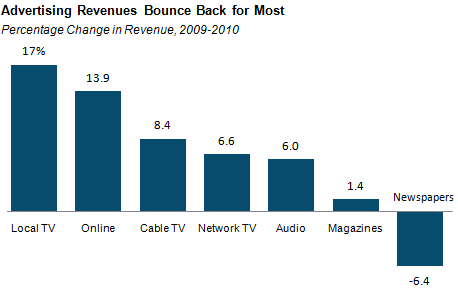 Read the full report at the Pew Project for Excellence in Journalism.