Credit Card Balances Continue Declining Again in January
Last month, we saw something happen in December that hadn't occurred in 28 months: credit card balances increased. After falling since August 2008, revolving credit finally rose again, by $2.0 billion, or an annualized rate of 3.0%. One theory to why that occurred was that Americans did a lot of holiday shopping to cause a temporary increase in card balances. That theory appears to have been confirmed this month, as revolving credit began to decline again, according to the Federal Reserve.
First, here's the broader chart on consumer credit from the Fed: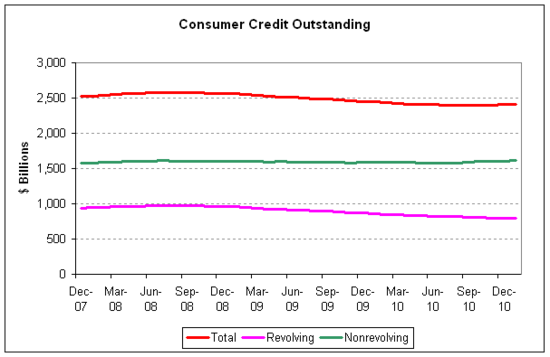 In January, total credit ticked up by $5.0 billion, at a 2.5% annualized pace. That increase came entirely from nonrevolving credit, however. It rose by $9.2 billion, at an annualized rate of 6.9%. This marks six months straight that nonrevolving credit balances have grown. In January, nonrevolving credit balances set a new high at $1.62 trillion. This measure does not include real estate-related loans.
But the more interesting statistic continues to be that of revolving credit. In fact, credit card balances declined so much in January that they erased the gain that occurred in December. Revolving credit is now down to $795.5 billion, the smallest amount since September 2004. That's a $4.2 billion, 6.4% annualized, decline since December. Since credit card balances peaked in August 2008, Americans have cut their revolving credit by $178 billion, or 18.3%.
Now it looks pretty clear that the momentary uptick in credit we saw in December wasn't the start of a new trend. Instead, it may have represented convenience users increasing their credit card usage for holiday shopping -- but then paying down those balances when they were due in January. After all, last month's decline in revolving credit brought it back down to a level even below that seen in November. Thus, American consumers continue to aggressively pay down their credit card debt.