Consumer Confidence Dives in March
After rising for five months straight, the Conference Board's Consumer Confidence Index plummeted in March. It fell 8.6 points to 63.4, matching December's index level. The decline isn't particularly surprising, as economists expected an even worse reading of 62.3. Still, it's the biggest drop since February 2010, which isn't a good sign for the economic recovery. Is the recovery in jeopardy?

First, here's the historical chart: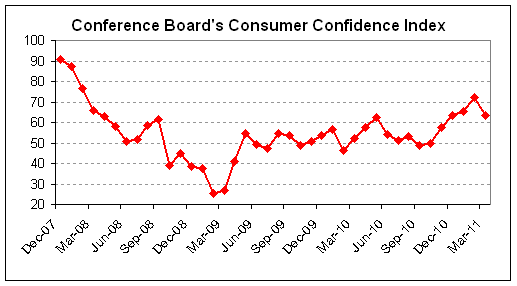 You can see that March's decline was pretty big, as it wiped away the gains in January and February. But that still leaves the index above where it stood throughout 2009 and 2010, so consumers aren't completely dejected.
Here's another way to look at the index, utilizing a trailing three-month average: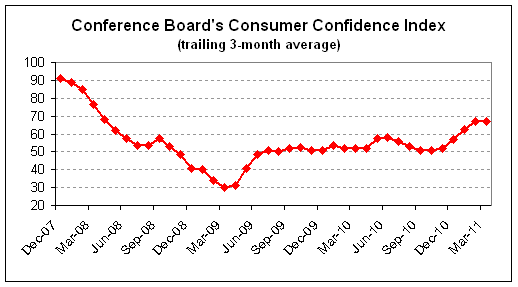 The index is often jumpy, so this helps to smooth out the trends. You can see that it had been steadily rising since last fall, but now appears to be flattening out due to the big decline in March. The trend at this point depends a lot on what happens in April. Was the drop just a blip or the start of a new trend?
Looking at the other data from the Conference Board's report might shed some light on this question. Its Expectations Index declined to 81.1 from 97.5 -- a huge drop. But meanwhile, its Present Situation Index actually improved to 36.9 from 33.8.
That might seem like a peculiar result. Americans are feeling better about their current situation, but bad about the future. Lynn Franco, director of The Conference Board Consumer Research Center, explains:
The sharp decline in confidence was prompted by a sharp decline in expectations. Consumers' inflation expectations rose significantly in March and their income expectations soured, a combination that will likely impact spending decisions. On the other hand, consumers' assessment of current conditions improved, indicating that while the short-term future may be uncertain, the economy continues to expand.
If you're looking for a silver lining, it's that consumer confidence can quickly improve if negative macroeconomic shocks subside, or new positive signs about the economy are seen over the next month or two. Americans are actually feeling better about their current situation, which means that it's their expectations about the future that is hurting confidence. This is understandable, given the big increases in food and oil prices recently, paired with troubles in the Middle East and Japan. But expectations can be volatile, as a strong dose of good news can change how people feel about the economy very quickly. It would be much less likely to see a sharp rise in how people feel about their current situation, if that indicator was declining.
But for now, today's news isn't good. If consumers are feeling worse about the economy's direction, they could cut spending in response. That would keep hiring slow, as firms wouldn't sense the necessary demand to take on additional workers. Still, this is only one month's worth of data, so it's too soon to say that recent economic shocks have seriously slowed the recovery. We'll have to keep an eye on confidence over the next couple of months to see if a new downward trend is really forming.