Chart of the Day: Entitlement Spending Will Surpass Revenue in 2024
What does it mean that Washington is consumed in a debate about the deficit while a linchpin of that debate, House Budget Chair Paul Ryan, doesn't expect entitlement reform in the near future? It means the deficit debate isn't really about the deficit.
Entitlements and interest payments will equal total government revenue in a little more than 10 years. Meanwhile, cuts to non-security discretionary spending are occurring in a part of the budget with practically zero projected growth as a share of GDP.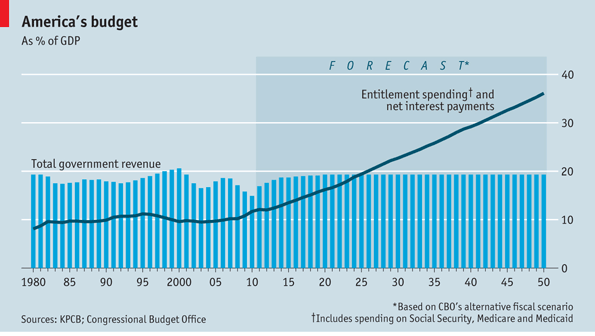 How silly are dramatic cuts to this static sliver of the budget? Imagine a dentist telling you to take better care of your teeth. So you buy a toothbrush and you brush one tooth really really really hard for six months but leave the others untouched. By the time you return to the dentist, your teeth are all rotting except for one tooth that is so overbrushed, you've worn out the enamel.
That's what we risk accomplishing with Republicans' demand for $100 billion in annualized cuts -- over-brushing non-security discretionary spending while underbrushing everything else, at the risk of destroying the hygiene of the entire budget.