By the Numbers: The Japanese Disaster and the Nuclear Crisis
Here is the devastation and aftermath of Japan's quake and tsunami in statistics (Updated with new stats)
~1.1 million: Households left without running water or electricity

390,000: The number of displaced and homeless Japanese people in the north because of the crisis, according to Reuters on Friday.

~10,000: The estimated number of deaths caused by the quake and tsunami

118,000: Buildings damaged

7,508: Confirmed dead in latest count [March 19]


9.0: The official, updated earthquake reading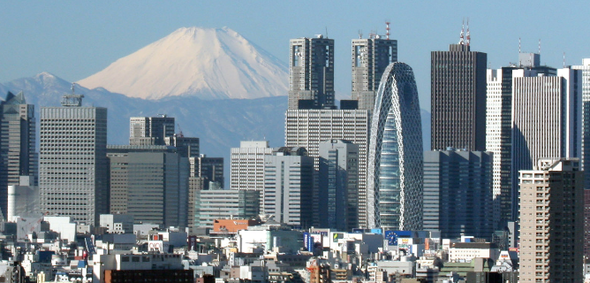 Image: Wikipedia
$5 trillion: Approximate size of Japan's economy
$200 billion: Estimated cost of catastrophe, not including loss of power -- about 4% of the economy
$60-$125 billion: Estimated cost of damage to housing and infrastructure alone -- about 2% of Japan's economy
180%: Japanese debt as a percentage of GDP. This debt burden is already, by far, the highest in the developed world. Still, Japan pays ultra-low borrowing rates because of this next stat...
95%: Share of Japan's debt held domestically, allowing the government to borrow at low interest rates (For the U.S., about 50% of federal debt is held domestically.)
30%: Share of Japan's power that comes from nuclear power (Approximately the same number as the U.S.)
18: Number of months it took for Japan's devastated Kobe region to return to 98 percent of its pre-quake economic activity after a similar 1995 earthquake
3%: Approximately, the affected region's share of Japan's economy. (For comparison, the state of Virginia is 3% of U.S. GDP)
2.5%: New economic growth forecast for Japan 2012, up 0.4 percentage points from previous estimate.
1.2%: New economic forecast for 2011 economic growth in Japan, down 0.5 percentage points from previous estimate.
-1.3%: The rate at which Japan's GDP shrunk in the quarter ending in December 2010, three months before the earthquake struck.

Image: Wikipedia
1,300: The number of Nissan cars damaged in a port near the earthquake's epicenter. Other brand name companies with damaged branches: Sapporo, Hitachi, Canon, Toyota and Sony.
$165 million: Size of Japanese market for Callaway Golf clubs, accounting for 17 percent of the company's total revenue. In the first few weeks, perhaps no U.S. company has taken a harder hit from the Japanese disaster than this maker of high-end golf equipment, which saw its stock fall by one-eighth in the week after the tsunami. (Also taking a hit: Texas Instruments, whose silicon wafer plant in Japan, accounting for 10% of company revenue, took a "substantial" hit.)
75%: Share of Aflac's 2010 sales coming from Japan, the highest share of any U.S. company with market cap of more than $100 million.
40%: Share of world's electronic components produced by Japanese factories. Sony makes 10% of the world's laptop batteries, and one fifth of semiconductors come from Japan.
+2%: Rise in Samsung Electronics' shares in week after tsunami. The South Korean company's Japanese rivals Toshiba and Sony saw stocks fall by 32% and 12%, respectively, last week.
>200%: The amount of nuclear electricity the United States produces compared to France and Japan, the second and third greatest producers of nuclear power in the world.
104: Number of nuclear power plants in the United States.
70%: Share of our carbon-free electricity that comes from those 104 plans
~40 years: The lifespan of the average nuclear power plan.
20-30%: Share of total U.S. electricity we draw from nuclear power, close to Japan.
0: Technologies other than nuclear power that can provide 24/7 electricity without greenhouse gas emissions. (Wind and solar cannot produce continual power.)