America's New Happiest Cities
The new Gallup data on America's happiest metro regions has just been released. Last year's Gallup-Healthways Well-Being Index ranked Silicon Valley as America's happiest metro-region. This year Boulder, Colorado is the winner. Boulder recently was named the best city for startups and registers highly on my own creativity rankings. College towns dominate the rankings. DC ranks tenth.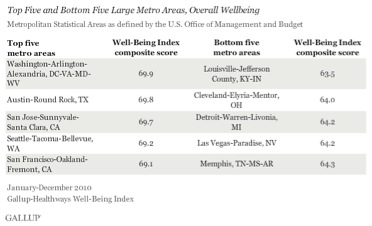 DC ranks first among large metros with Austin second, San Jose third, Seattle fourth, and San Francisco fifth. All of these metros have large tech clusters, highly educated populations, and high concentrations of knowledge, professional, and creative workers.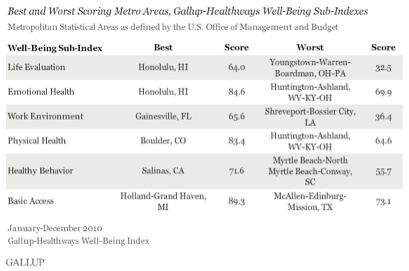 The Gallup-Healthways Well-Being Index covers six key categories: Life Evaluation, Emotional Health, Work Environment, Physical Health, Healthy Behaviors, and Access to Basic Necessities. Honolulu leads in Life Evaluation and Emotional Health.
Gainesville, Florida leads in work environment, and Boulder comes in first for physical health. Salinas, California takes the top score for Healthy Behavior and Holland/Grand Haven, Michigan leads for Basic Access. Silicon Valley, did not score in the top ten this year, either for Overall Well-being or in any of the subcategories.  The most "unhappy" metros are Rustbelt locations that have been hard-hit by the Great Reset or the Sun Belt's housing dependent cities of sand.
My next post will follow up with an analysis of the key factors that are associated with city happiness.