Americans' Incomes Up in February, as Spending Jumps
Rising gas prices didn't do anything to curb spending in February. Personal incomes rose by 0.3% during the month, but spending increased even more -- by 0.7%. That's the biggest increase in monthly spending since October, according to the Bureau of Economic Analysis. Of course, when spending rises faster than income, saving suffers. It declined by 4.8% in February. Still, this news is positive for the recovery.
First, here's the chart for income, disposable income, and spending over the past year: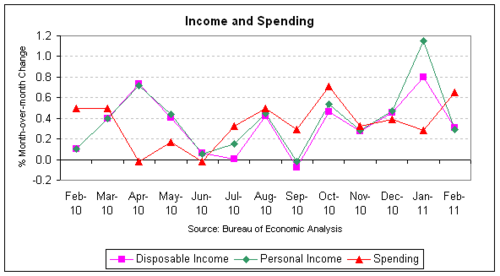 You may recall that in January, Americans got a pretty significant spending boost thanks to the tax cut legislation passed in December. That was a one-time effect, however. The 0.3% increase in February is more in line with the modest monthly change we've seen over the past year. As is often the case, the rise in disposable income matched that of personal income.
But the real story this month is spending. Its 0.7% increase was the second most this year, as October 2010 beat it out very slightly, which can't be seen unless you carry the statistic out another decimal point. This indicates that Americans are, indeed, becoming much more comfortable spending more money.
The big increase could be due to two reasons. One might that it took people a month to realize that they have a little more money in their paychecks due to the tax break. Another could be that more Americans found jobs in the first two months of 2011, and spent more money as a result.
It may be tempting to blame this increased spending on gasoline, since prices have been rising. But as we saw earlier this month, February's retail spending rose only in part due to gasoline sales. Even if you take gasoline out of the equation entirely for the month, retail spending still rose by 0.9%. This is particularly noteworthy, because the data shows that higher gas prices haven't affected Americans willingness to spend more money.
Of course, aggressive spending with a modest increase in income has a price: saving fell in February: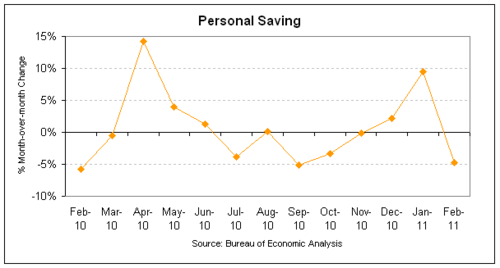 The 4.8% decline was the biggest drop in saving since September. It comes after a big increase in January, which again might imply that the extra tax cut money was aching to make its way out of Americans' wallets in February, and they ended up making purchases that surpassed the additional money they earned during the month, reducing their saving rate.
While it's always nice to see Americans saving more, it's hard to view a pop in spending as a bad thing during an economic recovery. This additional money spent will stimulate the economy and should help ignite more hiring. As firms' sales improve, they'll feel more need to hire additional workers. And at this time, Americans are still saving 5.8% of their disposable income, so the rate isn't nearly negative.