4th Quarter U.S. GDP Revised Up to 3.1% Growth
We finally have the economists' last word on the fourth quarter, for now anyway. In the third and sort of final revision, U.S. GDP grew at a pace of 3.1% in the fourth quarter, according to the Bureau of Economic Analysis. That's better than the 2.8% growth estimated in the second revision, but it's slightly worse than the 3.2% estimated initially. Today's report finalizes the last quarter of 2010's GDP calculation for the time being, but each year a major revision occurs that re-calculates growth for prior years. For now, however, why was growth revised up to 3.1%?
First, here's the chart with some history: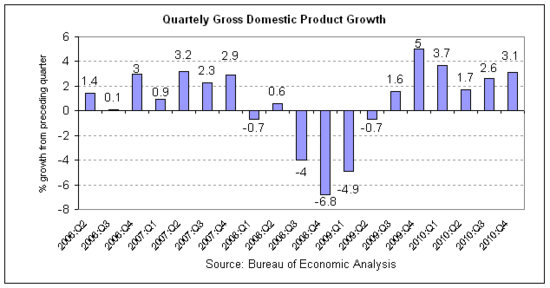 You can see that 3.1% looks pretty good compared to the prior two quarters. But it doesn't look as good compared to the two quarters before that. Obviously, it looks much better than what occurred from 2008 through the first three quarters of 2009.

The difference between 3.1% and 2.8% isn't huge, so there won't be any exciting revelations about certain components of GDP being far better than anticipated. In fact, most contributors of GDP barely shifted from the prior estimate. Of the four major components, consumer spending, net exports, and government spending all revised GDP growth by less than 0.1% compared to the second estimate. That means the bulk of the revision came from business investment.
Business investment pushed GDP 0.5% higher than the second estimate reported. The second revision showed a $112 billion decline in business investment, but today's final calculation shows a $94 billion decline. That's $18 billion better than we thought.
This change was mostly caused by two factors: additional spending on equipment and software and additional spending on inventories. The components were revised higher by $6 billion and $9 billion, respectively.
Since the third revision wasn't a huge change, the narrative for the fourth quarter's economic activity remains mostly the same. Consumer spending and net exports provided a strong performance. Business investment was relatively weak, due mostly to less spending on inventories. Government spending also declined a little.
A 3.1% rate of growth isn't terrible, but it isn't wonderful either. For the U.S. to add millions of jobs quickly, more economic activity would be needed. If this sort of growth continues, the recovery will clearly be underway, but the labor market will improve at a slower pace than we might like.