What Rising Labor Productivity and Falling Costs Mean for Jobs
Labor productivity rose for the second quarter straight in the last part of 2010, according to the Bureau of Labor Statistics. It's 2.6% increase nearly matches the third quarter's 2.4% increase. Together, they begin a new trend after labor productivity declined in the second quarter, after rising for five quarters straight before that. Does today's report have any implications for jobs?
It may help a little to look at some history: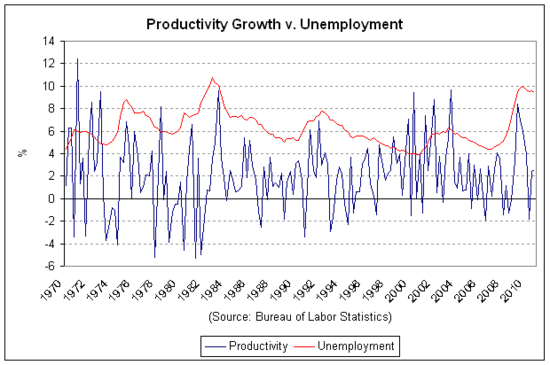 It's easiest to compare the last few years to the early 1980s -- the last time unemployment was very high for some time. As you can see, productivity growth looked similar then too. It had a giant spike, and then briefly dipped, but remained elevated for a while. So the first thing we can probably expect is for productivity to continue increasing as employment slowly improves.
High productivity shouldn't worry us. If anything, it implies that firms are probably continuing to require more of their current employees, rather than hire additional workers. If productivity begins steadily declining, then we should worry, because that would mean that the economy has more workers employed than necessary.
Labor costs are probably a more important metric for hiring. Today's report provides that data as well. In the fourth quarter, labor costs declined by 0.6%. That follows a tiny decline in the third quarter, and a big 4.9% increase in the second quarter.

Declining labor costs are a positive sign. As they fall, firms will find it cheaper to bring on more employees. The most recent quarter's decline is also good news because firms hired more workers throughout the fourth quarter. This contrasts with the second quarter, when increased hiring came with a 4.9% spike in labor costs.
So the narrative here stays the same. The labor market is conducive to hiring. Now it's up to firms sensing that there's increasing demand on the part of consumers to bring on more workers.