U.S. Exports Continue to Rise in December, but Trade Gap Widens
U.S. exports rose for the fourth straight month in December, up $2.8 billion, or 1.8%, to $163.0 billion. But the Bureau of Economic Analysis also reports that the trade gap widened by $2.3 billion to $40.6 billion during the month. This occurred because imports outpaced exports. The U.S. imported $5.1 billion more goods and services in December, a 2.6% increase. So the trade data for final month of 2010 provided both good and bad news.
Let's start with the annual data, since December gives us a full year. Here's a chart showing how U.S. trade has changed over the past three years: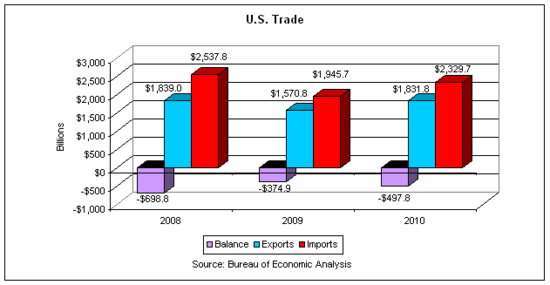 It's easy to see what's going on here. In 2008, the economy hadn't felt the full effects of the global recession, so trade was relatively robust. But it declined sharply in 2009, when the effects of the downturn were greater. That year, exports fell by 14.6% and imports dropped 23.3%. This actually cut the trade gap nearly in half. But in 2010, the global economy started picking up. Exports grew by 16.6%, while imports rose by 19.7%. Since imports grew faster, the trade gap also increased, by 32.8%.
Now let's turn back to monthly data, looking at what happened in December. Here's the historical chart, since 2008: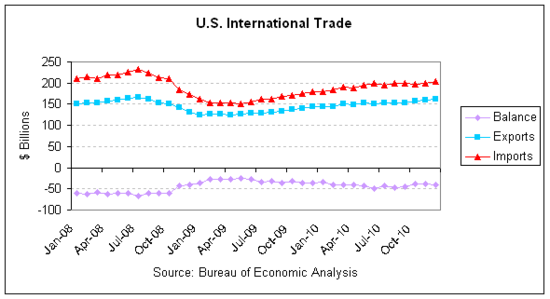 Exports hit a new high not seen since July 2008. But with the trade deficit increase, the some of the progress the U.S. had made in shrinking the gap in October was lost. That month, the deficit declined by $6.2 billion.
Here were some of the big winners for the goods the U.S. exported in December. The last column shows their percentage contribution to the increase in exports: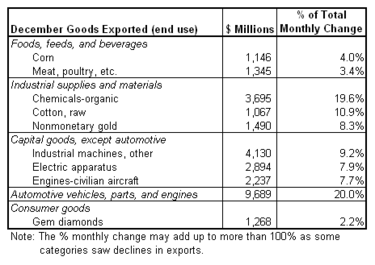 Obviously increasing exports should help to create more U.S. jobs. It's hard, however, to really call an increase in the trade gap good news, but there is a way to interpret it more imports as somewhat positive. An increase in imports likely implies that U.S. consumer and business demand is rising, unless those imports are simply replacing spending on domestically-made products . Unfortunately, the trade report doesn't provide that sort of data. But it does say that exports also rose, so even if some sales for domestically made products were lost due to imports, it's plausible that some or all were replaced by what the U.S. sold to overseas businesses and consumers.
If U.S. demand for goods and services is rising, then this is a very positive sign for its broader economy. As Americans spend more, firms will see higher sales, which will encourage them to hire more aggressively. Of course, it would be better for U.S. jobs if more of the money spent importing products was spent on those created by domestic firms instead. But surely U.S. companies are seeing this demand rising, since it is unlikely Americans are only buying more goods and services produced overseas.