Small Business Optimism Hits 3-Year High in January
Small businesses in the U.S. continue to feel better about their prospects, little by little. But the incremental progress is beginning to add up. Small business optimism in January reached a new 3-year high, according to the National Federation of Independent Businesses (.pdf). Most signs are showing that the sector is slowly improving, but the new report also shows hiring isn't yet speeding up.
Let's start with the NFIB's Small Business Optimism Index: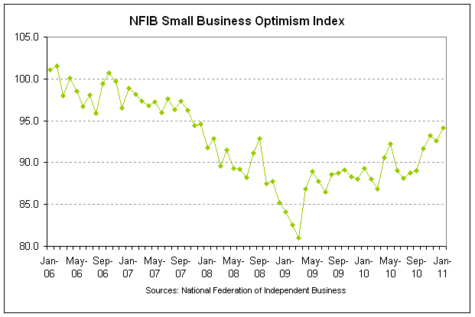 You can see that it declined slightly in December, only to make up the ground it lost and a little more in January, when it hit 94.1. That's the highest since December 2007 -- right when the recession was getting underway. Of course, that was a time when the economy was headed towards recession, so sentiment should actually be much higher for the U.S. economy to be in a strong expansionary phase. This shows that times still aren't great for small business, but are certainly better than they were a few years ago.
Sales expectations are clearly improving. Here's their chart, based on seasonally adjusted data from the NFIB indicating the net percent of small businesses expecting better sales during the next three months: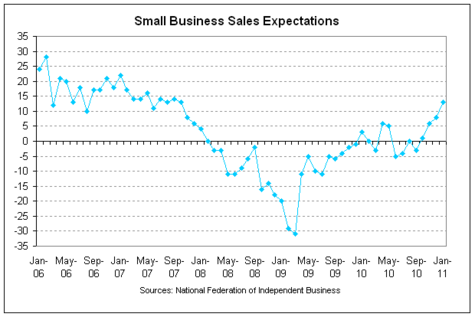 That net percent for January rose to 13%, which is the highest since October 2007. This is a very good sign. Firms have blamed their slow hiring on weak sales expectations. As those begin to increase, so should job growth.
Yet that hiring doesn't appear to be speeding up just yet. The NFIB's hiring plans metric actually declined slightly in January, and job openings were flat. This result makes it a little hard to believe the government's more optimistic estimate of 589,000 jobs created in January is accurate.
Credit conditions also appear to be slowly improving for small firms. In January, the NFIB's loan availability metric also rose to its highest value since October 2007. But it still isn't great, as net 10% of firms say it's harder to get loans compared to three months ago.
Finally, the most important problems plaguing small businesses remain mostly the same in January. Poor sales are still named as the chief problem, according to 27% of those surveyed. That's followed by taxes at 19% and government regulations and red tape at 17%. It's interesting to note that more firms named regulation as the most important problem in January compared to a year earlier. Its share has risen by 4%, while the percentages of small businesses blaming sales and taxes as their most important problems have both declined, by 4% and 3%, respectively.
While today's report on small businesses is encouraging, it doesn't suggest much has changed from late last year. These firms are still slowly recovering. They should hire more workers as their sales expectations continue to rise, but so far they remain reluctant to add many new employees.