Pending Home Sales Cast Doubt on Housing Recovery
For the past three months, we've seen existing home sales rise. But that may soon change. Pending home sales, a forward-looking indicator, has fallen for the second straight month. The Pending Home Sales Index, calculated by the National Association of Realtors, declined 2.8% in January. This trend reinforces the narrative that the housing market has further to go before a stable recovery can be said to have taken hold.
First, here's some history: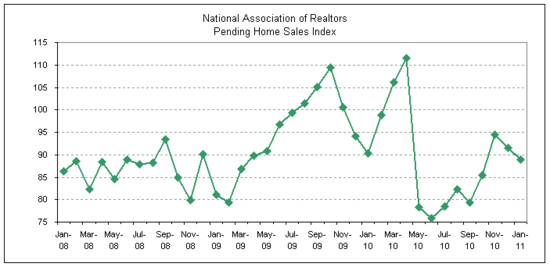 This is a very jumpy chart -- and for good reason. The housing market has undergone crazy twists and turns over the past few years. First, you can see how pending sales were quite low throughout 2008, after the bubble popped. Then, in 2009 pending sales began to rise as the home buyer credit influenced the market. In April 2010, the credit expired, and sales plummeted. They began to recover last fall, but now appear to be declining again.

Recovering from here won't be easy in the near-term. Prices have begun to decline again, which will prevent some consumers from taking the risk on buying a home. The foreclosure rate is still high, which will put pressure on inventory. Of course, unemployment remains very high, and probably will stay around or above 9% throughout 2011. Finally, it's likely that some demand for this year was already used up by the tax credit -- so sales will be even harder to conjure up.
Here's what NAR's Chief Economist Lawrence Yun says about the recent trend:
The housing market is healing with sales fluctuating at times, depending on the flow of distressed properties coming on the market.
While home buyers over the past two years have been exceptionally successful with historically low default rates, there is still an elevated level of shadow inventory of distressed homes from past lending mistakes that need to go through the system. We should not expect the recovery to be in a straight upward path -- it will zig-zag at times.
But if the market zig-zags is it really a recovery? Until housing finds its footing at the bottom of the trough, Americans are going to be wary about buying a home. All shadow inventory needs to be sold, and sales need to stabilize. Only then can we say a recovery has really taken hold.