Life After Death: Two Years Since The Demise of My Newspaper
Two years ago, on Feb. 26, 2009, journalists at the Rocky Mountain News learned their fate. E.W. Scripps President Rich Boehne told them the edition they produced for the next day would be the Denver newspaper's last.
"It's certainly not good news for you, and it's certainly not good news for Denver," Boehne told a throng of journalists assembled in the newsroom.
On that day, I was the editor, president, and publisher of Colorado's oldest newspaper, affectionately known as "The Rocky."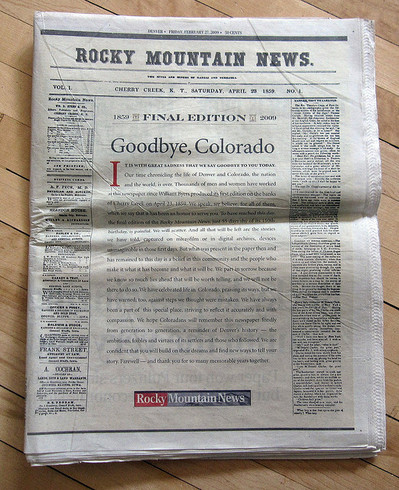 Today, I can't speak to what the loss of the paper has meant to Denver. I am in Honolulu, running a start-up news service, www.civilbeat.com. But I can give you a picture of what it has meant for the men and women who were on the editorial staff when Boehne spoke those words. Then, they were shoved into the ranks of the millions of victims of the Great Recession. Today, most are among its survivors.
In spite of all the negatives associated with the death of a business -- loss of income, meaningful work, camaraderie -- I found that people, and perhaps especially journalists, are resilient.
A survey I just conducted of the 194 members of the paper's editorial staff on its last day found that the blow of losing a job doesn't mean life is going to be worse down the road. My survey wasn't scientific. It's possible that those who didn't respond are struggling personally or financially more than those who did. But the 146, or 75 percent, who did respond have lessons for journalists and others who fear the instability of their jobs or who may have suffered a similar fate.
More (44, or 30 percent) said their life is better today than said it is worse (35, or 24 percent). The largest group -- nearly half -- said the quality of their life is the same. Among the reasons: more time with family, learning new skills, and new opportunities made up for the loss of a job. And maybe one more that went unsaid: fewer than 1 percent said they are unemployed, with 92 percent saying they're working (the others are retired or studying). That's extraordinary, considering a national survey that found just one-third of people who lost work had replacement jobs 15 months later.
There's no question, though, that losing their job meant most needed to adjust to a new, lower, standard of living. Ninety-eight, or nearly 70 percent, are making less money today than they did when they were employed by the Rocky, and that doesn't factor in benefits, a worry for many today. About 40 percent said they are earning "much less."
While you might expect a correlation between income and how people feel about their lives, plenty of former Rocky employees making less money today said their lives are better now than when they were at the paper. The difference in the proportion of those making more and those making less who said life is better now was negligible.
One striking finding -- perhaps encouraging for those who can't imagine life after journalism -- is that a greater percentage of those who left the profession said their life is better today than when they were at the Rocky. Half of those who responded who'd left the field said their life is somewhat or much better. Only a quarter of those who stayed in journalism said their life is better now. Of course, maybe the last few years of turmoil had just made life wear thin.
Despite all we hear about how terrible the job market is for newspaper types, two years later 63 percent said they're working as journalists, with newspapers being the single largest employer.
There might be a lesson there for young journalists. The skills of a journalist -- critical thinking, clear communication, creative problem solving, research -- are transferable to other jobs. To parents who can't conceive of what their wayward child might do with a journalism degree, maybe things won't be so bad after all. Journalists from the Rocky have gone on to do everything from managing a restaurant to starting their own business to writing for non-journalistic organizations.
None of this is meant to diminish the sense of loss that remains vivid for many two years later. When a plant shuts down, a business ends, or a paper closes, many lose more than a job. There's no getting around that or the pain such events cause, not just for the employees but for their families and loved ones. But it was the paper that died. For the people, life -- as many of the staff told me -- is just different. And, as the survey shows, that's not necessarily bad news.

John Temple is the editor of Honolulu Civil Beat. You can read more about the survey on his blog at www.johntemple.net.

(Image Credit: edkohler/flickr)