Leading Indicators Continue to Creep Up in January
After relatively growth in November and December, the Conference Board's Leading Indicator Index ticked up only slightly in January, by 0.1%. Although we saw broad increases across most index components in December, last month the results were more mixed. Still, some very important leading components got better in January, which continues to suggest that the recovery is moving forwards -- just perhaps not as quickly as November and December suggested.
First, here's the chart from the Conference Board: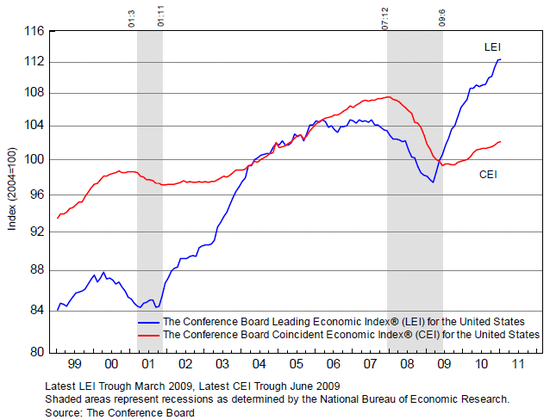 The leading index (LEI) is the blue line. You can see how it flattened out in January, after rising pretty quickly in the prior few months.
So what went wrong in January? Most of the negative contributors came from the labor market. Both average workweek and average weekly initial unemployment claims worsened in January. Their combined effect matched the negative contribution from declining new building permits. That comes after a hefty increase in building permits in December. So this flip makes for most of the reason why the LEI's growth wasn't as strong last month.
The positive contributors still managed to outweigh those declines, however. Supplier deliveries and new manufacturing orders both rose in January. The stock market also increased, which helped. But the biggest positive contributor to the index was still-low interest rates. Slowly rising consumer expectations also had a little positive effect.
Really, January's Leading Indicator Index results capture the prevailing narrative for this economic recovery. It was held back by weak employment results and housing. But meanwhile, business appears to be improving, and consumer sentiment is slowly rising.
Over the next several months we'll probably see much of the same. Housing will probably continue to struggle while the unemployment rate will remain higher than we'd like. These factors will likely hold back the recovery from growing quickly, but stronger business activity will keep it on the right track.