Housing Starts Way Up, But Permits Way Down in January
As the housing market continues to try to regain its footing, there's little consistency in a rebound for new home building. After jumping 15.3% in December, permits for new home building sunk 10.4% in January, according to the Census Bureau. With housing starts, the story is similar but flipped. They were down 5.1% in December and then leaped 14.6% in January. From this data, it's hard to say anything concrete about trends in new home building.
Let's start with the charts. Here are building permits for new homes: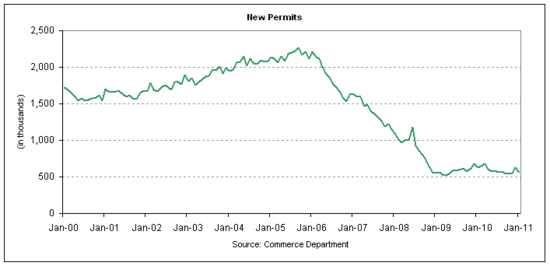 You can see the recent blip pretty clearly. Permits leapt to 627,000 in December, which was the most since March 2010. But then, they fell back down to 562,000 in January to a level seen last summer. So there may, indeed, have been some sort of end of the year effect here. At this point, it doesn't look like there's enough evidence to make the claim that permits are on an upswing.
Next, here is the chart for housing starts, which indicate when ground has been broken on a new home: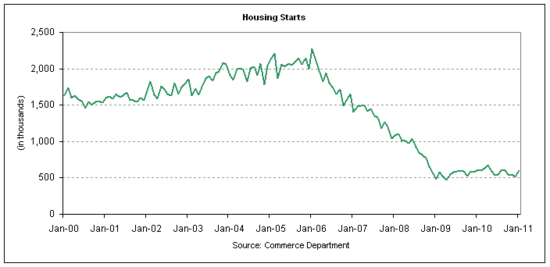 Since permits are a leading indicators for starts (you need a permit before you can start building), it makes sense to see an increase in starts for January. After all, we saw a pop in December for permits. At 596,000 housing starts are the highest since September.
Unfortunately, if you consider permits, there's reason to believe starts' uptick is a blip too. Just as permits fell 10.4% in January, we may see a drop next month for starts. Although the level where it settles might not be at December's very low rate of 520,000 starts, a decline could still indicate the stable level of annual home building is well below 600,000.
So ultimately, it looks like the narrative for new home building hasn't changed. Despite the jump in housing starts, the decline in permits makes a rebound for the sector less likely. If permits begin increasing again in future months, then that's another story. But for now, the home construction sector still appears to be searching for a stable floor, where it will likely remain until more of the vast existing home inventory is worked through.