Existing Home Sales Growth Continued in January
After a big 12.5% jump in December, existing home sales rose another 2.7% in January, according to the National Association of Realtors. This puts sales at a 5.36 million annualized pace last month, which makes them the highest since May and 5.3% higher than a year earlier. Will home sales continue to steadily increase?
First, here's the historical chart: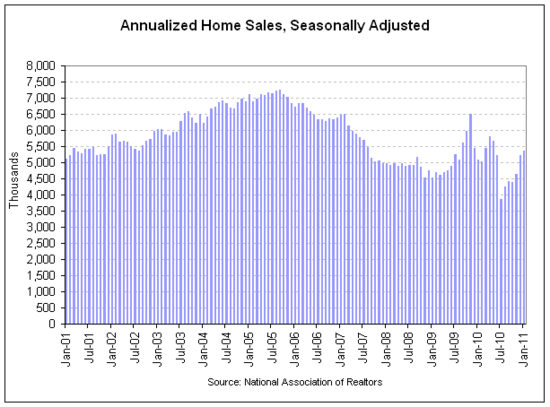 There are a couple things to note here. First, January marks the third straight month of sales growth. Second, the pace of sales last month is 38.9% higher than the July low. Finally, although sales are approaching levels seen last spring, they're no where near their housing bubble highs. They do, however, appear to be approaching their pre-bubble pace. Consequently, it's plausible that any increases in sales going forward could be modest, since they are already nearing what was seen as a sustainable pace prior to the boom.
For more seemingly good news, we can look to existing home inventory. It declined by 5.1% in January to 3.38 million. That's the least inventory we've seen in a year. Here's the chart: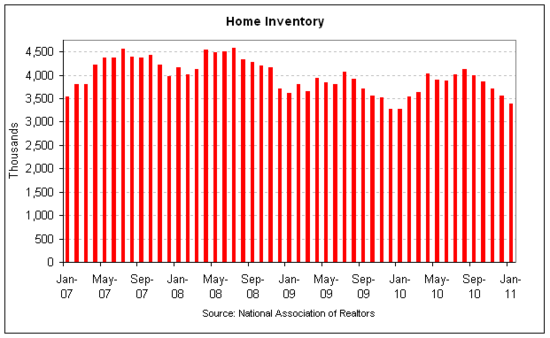 You can see that inventory has declined for five straight months. Yet that's the same period of time during which foreclosures slowed as banks bean to work through documentation and procedural problems. So while the decline in inventory looks promising, this could continue to be more due to banks having slowed their foreclosure process than a lasting trend of fewer homes hitting the market.
On some level, it makes sense that buying is increasing; after all, prices are falling again. According to the report, the median home sales price was just $158,800 in January. That's a decline of $10,000 or 5.9% from just December. It's also the lowest median sales price since April 2002. The median price has declined for seven months straight.
But the NAR claims that recent price declines do not indicate falling home values. Its President Ron Phipps says:
Unprecedented levels of all-cash purchases, primarily of distressed homes sold at deep discounts, undoubtedly pulls the median price downward. Given the levels of inventory we see today, we believe that traditional homes in good condition have held their value.
If he's right, then once distressed inventory levels decline, median sale prices should rise sharply.
Ultimately, this mixed data makes it difficult to draw any strong conclusions about the state of the housing market. Sales appear to be improving as inventories decline. But those sales still don't appear to be enough to prevent home prices from falling significantly. Moreover, once foreclosures speed back up, more pressure may be put on prices as inventories rise again. Although lower prices may entice more potential buyers to enter the market, they will also force more homeowners underwater on their mortgages if they're reflective of lower home values.