Consumer Confidence Soars to 3-Year High in February
Americans continue to feel more confident about their economic prospects. The Conference Board's Consumer Confidence Index jumped to 70.4 in February, from an upwardly revised 65.6 in January. This month's value is the highest since February 2008. At this point, consumer sentiment is significantly higher than it was prior to the slowdown last summer. This indicates that the recovery is moving steadily forward.
Let's start with the history. Here's the Conference Board's Consumer Confidence Index since the recession began in December 2007: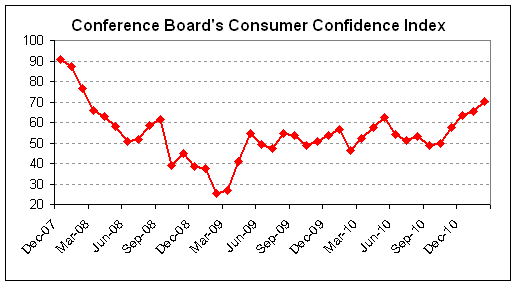 As you can see, sentiment isn't quite at its pre-recession level yet. But it also appears to be on the way there. Since October confidence has climbed steeply.
Here's another way to look at confidence, with a trailing three-month average to remove the volatility:
Since this is a trailing three-month average, it's important to remember that this calculation is more backwards looking. For that reason, recent performance doesn't look quite so impressive. But even through this conservative measure, we see a clear upward trend.
The Conference Board's other major indices also improved in February. Its Present Situation Index rose to 33.4 from 31.1 in January. That's the best since November 2008. Its Expectations Index improved to 95.1 from 87.3. That forward looking measure is the best in this month since December 2006. To find the Expectations Index consistently higher than 95, you have to look all the way back to 2004.
The improvement in these indices hardly means that all is well in the U.S. economy, however. Significant challenges still persist, which include a very high unemployment rate and a struggling real estate market. The unrest in the Middle East may also put greater pressure on oil prices. That could make price inflation at the pump, which consumers have already begun to notice in recent months, even worse.
But if confidence does continue to rise despite those obstacles, then hiring should accelerate. Firms have long complained that a lack of consumer demand has dampened their hiring. As sentiment improves, however, more spending should result. Consumer confidence is arguably the most important forward-looking measure for jobs for this reason. If it continues to increase, then so should hiring.