Construction Spending Dropped to 9-Year Low in December
This is grim news for the millions of jobless Americans who once worked in the industry
Although most economic indicators for December were positive, construction spending wasn't one of them. It fell 2.5% to the annualized rate of just $787.9 billion, according to the Census Bureau. That's the lowest level since July 2001. This isn't good news for the sector, which has been one of the hardest hit by the downturn.
Here's the historical chart: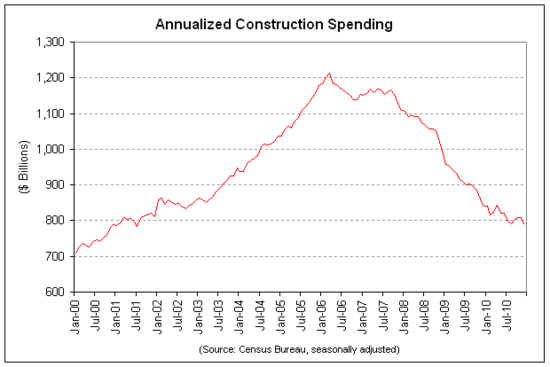 If you look at July 2001, you can see how spending dipped. That was the last time it was lower than it was December. You would have to go back to 2000 to see levels consistent near the month's $787.9 billion tally.
Private and public construction were almost equally responsible for the decline. They fell by 2.2% and 2.8%, respectively. In general, however, residential construction led the decrease. It was down 4.4%, while non-residential construction only fell by 1.6%.
December's report also reversed what was thought to be a two-month upward trend for construction spending increasing. Instead, a revision to November results in a two-month decline.
The chart above shows that the construction market has not stabilized. This provides a particularly grim prognosis for the nearly two million Americans who have lost their jobs in the construction industry since 2008. While other sectors of the economy have begun improving modestly, the construction industry appears to need more time to heal.