4th Quarter U.S. GDP Growth Revised Down to 2.8%
An ugly, rainy morning in Washington provides a fitting setting for today's economic news about fourth quarter GDP. The government's first revision lowered the pace of growth to 2.8%, according to the Bureau of Economic Analysis. Initially, GDP growth was thought to be 3.2%. The downward revision to fourth quarter GDP also changed GDP for 2010 slightly, bringing it down to 2.8% from 2.9%. Although the U.S. economy clearly still grew in the fourth quarter, it did so at a more moderate pace than previously reported. The downward revision can be explained mostly by looking at weaker estimates for three main factors: consumer spending, imports, and state and local government spending.
First, it's always helpful to start with the chart: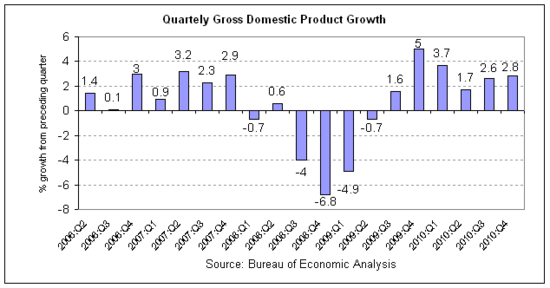 On a quarterly basis, the revision down to 2.8% growth from 3.2% still puts the fourth quarter ahead of the second and third quarters. But it also makes the pace of growth last quarter look much weaker than the 3.7% pace during the first quarter.

One reason for the new GDP estimate was consumer expenditures. The new revision brought their contribution to overall growth down by 0.16%, making it close to half of the reason for the lower new estimate. Within consumer spending, there was no one factor chiefly responsible for the revision. Instead, several were slightly weaker than first thought, including spending on durable recreational goods, spending on clothing, housing and utility service expenditures, and food services and accommodations.
Business spending had the smallest impact on the GDP revision, actually boosting growth slightly more than first estimated. Its contribution was revised higher by 0.07%. This was due primarily to more spending on business structures than anticipated.
Net exports also helped to push down the new GDP estimate. Exports were actually $4.4 billion higher than first estimated. That would have helped growth, but imports actually were revised even higher, by $7.2 billion. That resulted in the contribution to GDP growth from net exports falling by 0.09% compared to the first estimate.
Government spending actually had the most to do with the downward revision. Although the first estimate of federal spending remained virtually unchanged, state and local governments spent $5.8 billion less than first thought. That helped to pull down its contribution to GDP growth by 0.20%.
This first revision is troubling on a whole, since it pulled down GDP growth. But it's hard to get very worried about any single component, since the revision was divided up fairly evenly among various contributing factors. And the fact that the biggest reason for the downward revision stems from less state and local government spending might be some consolation since it doesn't reflect less business activity. Slightly weaker consumer spending and more imports than anticipated were the only other major factors that led to the other half of the downward revision. While this isn't great, it also isn't terribly worrying.