It would be overstating things to call the Cairo uprising an economic revolution. But it would be understating things to say that economics has nothing to do with Egypt's revolt. Slow economic development helped build the Egyptian tinderbox that has been set ablaze in the last week.
While most countries with Egypt's access to trading routes and history of merchant power are emerging in the global economy, Egypt's marketplace remains very much hidden. Forget competing with China and Brazil. Egypt's real (inflation-adjusted) household income over the next 12 months is expected to shrink considerably faster than Saudi Arabia and Russia.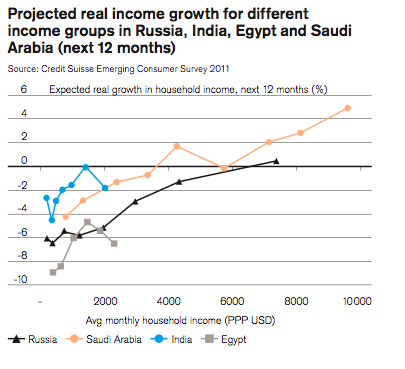 Blame President Hosni Mubarak, who has shut his country off from the global economy. As Zachary Karabell reports in the Wall Street journal, the country ranks 137 in the world in per-capita income (behind Tonga, ahead of Kirbati). The government has failed to capitalize on $2 billion in annual U.S. aid, $5 billion in Suez Canal dues and $10 billion in tourism, which flourishes despite, not because of, the country's infrastructure.
Egypt's brand of socialism strangles the private sector in at least two significant ways. First, most investment projects must be reviewed by the government and with public ownerships dominating finance, that makes it especially difficult for entrepreneurs to get access to funding. Second, corruption is rank. Egypt ranks 111th out of 180 countries in Transparency International's Corruption Perceptions Index for 2009, according to the Heritage Foundation's Index of Economic Freedoms, and "bribery of low-level civil servants seems to be a part of daily life."