Small Business Sentiment Drops for First Time Since July
After rising to the highest level in nearly three years in November, small business sentiment declined in December, according to the National Federation of Independent Businesses (.pdf). Its small business Optimism Index declined 0.6 points to 92.6 last month, after rising for four months straight. This is disappointing, but isn't cause for concern yet.
Obviously, it would have been nice to see small business sentiment continue to improve without taking a step back. But the good news is that it didn't move backwards much. Here's the Optimism Index chart since 2006: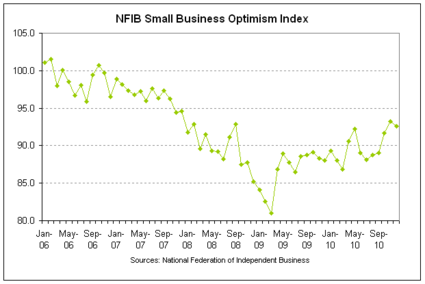 December's decline was a pretty small tick. The level it's currently at is still above any prior to September 2008. Small businesses aren't suddenly extremely negative about the U.S. economy. Instead, their optimism just isn't improving as consistently as we would like.
One factor driving the decline in sentiment was general business outlook. Near- and longer-term expansion plans both worsened in December. Part of the reason why is that weak sales continued to plague small businesses. Sales worsened in December, which is a little surprising considering all the reports of strong holiday sales. Yet small businesses still reported the best December sales since 2007. Sales expectations were also the highest they've been in three years.
And that may drive more hiring. The highest number of net firms reported job openings in two years last month, and hiring plans were the most optimistic they have been since September 2007. Here's a chart from the NFIB report showing how those two factors have changed: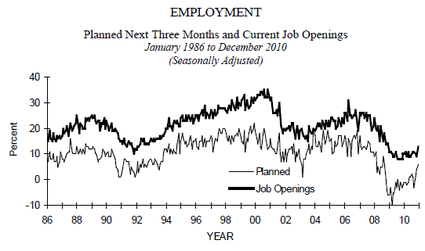 Unfortunately, plans to increase inventories worsened, which could imply that hiring will be modest. There were more firms planning to cut inventories in December than those wanting to increase their stock.
The biggest problems facing small firms were similar last month to what we saw throughout 2010. Sales remained the most serious problem, according to 33% of firms surveyed. The good news, however, is that the next two biggest problems could be solved by the government: taxes and government regulations & ted tape. Those were the biggest obstacles for 19% and 13% of firms surveyed, respectively. Even if Washington can't do much about sales, it could reform corporate taxes and reduce the regulatory burden that firms face.
Over the entire course of 2010, the small business optimism index only increased by 4.6 points. This pretty much exemplifies the slow economic recovery. Small business is generally a major engine of growth in the U.S., so many jobs need to be created by those firms to dig out from the nation's ultra-high rate of unemployment. But if small firms don't see conditions improving this year faster than last year, then hiring will be weak, at best. If the index rises by another measly 4.6 points this year, it will still be below 100, a number it stood consistently at or above prior to 2007.