Producer Prices Up the Most in 11 Months in December
Is the Federal Reserve succeeding at raising inflation? The Producer Price Index (PPI) for finished goods rose by 1.1% in December, according to the Bureau of Labor Statistics. That's the biggest increase since January. But most of the rise in prices was due to two types of goods: food and energy. That makes it a little more difficult to make any strong predictions about longer-term inflation trends.
Let's start with the chart for PPI for finished goods: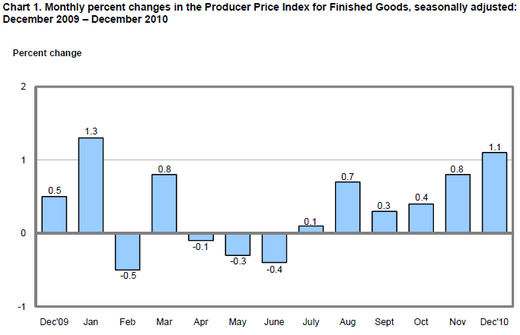 It's pretty easy to see how big a jump producer prices took in December. But as mentioned, food and energy were responsible for most of this increase. Their finished good prices rose by 0.8% and 3.7%, respectively.
If you take those two types of goods out of the equation, then you get so-called "core inflation." It rose at a much slower rate of just 0.2% last month for finished goods. Here's its chart: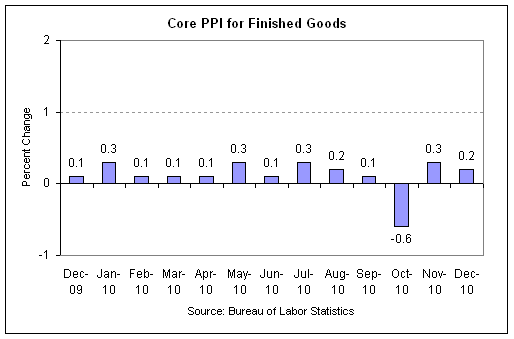 In fact, the rate of core inflation declined slightly in December. It was in line with the longer-term trend, however. You can see that it has been between 0.1% and 0.3% for all of 2010, except for when it declined in October.
Intermediate and crude goods also saw their prices rise last month, by 1.0% and 4.0%, respectively. Their increases were also due in large part to food and energy prices increasing.
If higher food and energy prices turn out to a long-term trend, then this will affect the prices of finished goods, and ultimately those consumers see. But these goods have very volatile prices compared to others, so it's hard to know for sure if food and energy will drive a permanent rise in prices.