New Home Sales Jump 17.5% in December
Last week, we learned that December's existing home sales soundly beat expectation, up by 12.3%. Today, the real estate industry gets some more good news: new home sales jumped as well. They were up 17.5%, according to the Census Bureau. Although this is an impressive one-month increase, new home sales are still very anemic on a historical basis.
Here's the chart: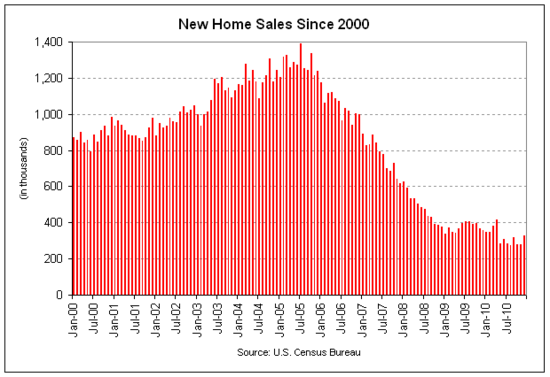 December's jump is pretty easy to see. Annualized sales rose to the pace of 329,000. That easily beat expectations of 299,000. The month's 17.5% increase was a lot better than November as well, when sales growth was flat.
But the chart also makes obvious how incredibly low new home sales remain -- despite the month's big jump. New sales are still below any tally prior to May 2010. In order to create many more construction jobs, new sales will have to increase significantly. That will be a challenge as long as a large amount of foreclosure inventory continues to hit the market.

This news does lend some credibility to the argument that home sales are beginning to recover a little, however. When you pair today's report with December's existing sales, last month's performance shows a much more activity. But as was said regarding existing sales, we'll have to wait for a few months more data to know if sales are really on a steady growth trajectory, or if they will bounce around at a very subdued level.