Indonesia Makes an Impressive Debut, Sarkozy Defends the Euro and Humiliates Jamie Dimon
It was a crazy Thursday at Davos, as a small bomb detonating barely ranks as the day's third most explosive event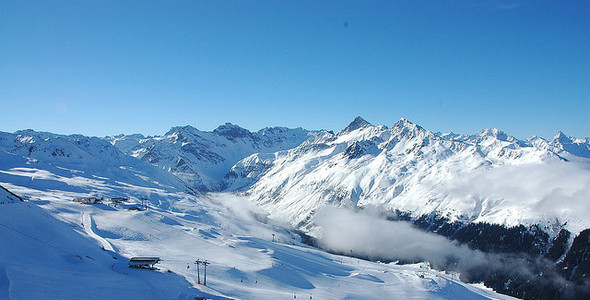 DAVOS, Switzerland - Thursday will go down in the history of the World Economic Forum as one of the more action-packed days in the 41-year history of these annual meetings. It will also be recorded as the day that Indonesia was perceived by the global power elite to have joined the ranks of China and India as one of the world's fastest growing and most populous consumer markets, thanks to a statesmanlike debut here from mild-mannered President Susilo Bambang Yudhoyono.*
But first the story of a bomb blast here, which fortunately came to nothing.
Despite thousands of gun-toting Swiss soldiers and tight security everywhere, an extremist left-wing protest group managed to smuggle into the ski resort and detonate a small bomb in the basement of a luxury hotel. But nobody was hurt, and nobody was ruffled. In fact, the explosion at the Hotel Post Morosani was so minor that meetings resumed just minutes after the blast.
Later on Thursday a left-wing activist group called "Revolutionary Perspective" claimed responsibility for the attack, but Bill Clinton went ahead with a dinner meeting in the hotel that was hit. The only visible response was a huge lockdown of Davos, with lots of helicopters swirling overhead and sharp shooters on every roof.
The other fireworks at Davos were rhetorical, as French President Nicholas Sarkozy warned skeptics that the euro would never die and then laced into an unusually aggressive Jamie Dimon, chief executive of JP Morgan. Dimon made the decision to publicly provoke the voluble French president during a Q&A session after Sarkozy's speech. Big mistake.
But first the real story of the day from Davos was the remarkable debut of the former army general who has steered Indonesia into democracy and go-go economic growth.
Until now, the big story about the shifting plate tectonics of the global economy here at Davos has concerned the new respect on the part of Western business leaders for China, India, and East Asia. Add to these countries Brazil and Russia, and you have the now-dated concept of BRICs (Brazil, Russia, India and China) as the main miracle growth stories of the 21st century.
But on Thursday, as can only happen at Davos when the world's big shots assemble for group therapy, to compare notes and to network, Indonesia suddenly was catapulted to center-stage. That was in large part the result of the most impressive, crisp, and even visionary speech given by any world leader here in a long time.
Even before he started speaking Thursday morning, Davos founder Klaus Schwab cued things up by telling the crowd that Indonesia was the third fastest growing economy after China and India, the fourth most populous nation on the planet and the largest Muslim nation (except this is one of the few Muslim nations besides Malaysia that celebrates Christmas and Hindu festivals as national holidays as well as Ramadan).*
Then Yudhoyono (known back in Jakarta as "SBY") took the podium.
Coming the morning after a rambling and lengthy speech from Russia's President Medvedev, and with delegates bracing for the verbal pyrotechnics of France's Nicholas Sarkozy later in the day, the Indonesian president was acclaimed by even the most cynical Davos veterans as "impressive."
It wasn't just the warnings from SBY that rising food and energy prices could lead to social unrest and even an economic war, although this was an eloquent start. With the world population rising from seven billion to more than nine billion by 2045, he said this meant more than just food and energy prices fuelling inflation.
"Imagine the pressure on food, energy, water, and resources. The next economic war or conflict could be over the race for scarce resources, if we don't manage it together," said Yudhoyono.
But picking up on this year's conference theme of "shared norms for the new reality," he then tried to drive home the growing importance of Asia, including his country, in shaping the new world of the 21st century.
"Whatever you call them, BRICs or emerging markets, they already account for over half of the world economy and its growth. Many of the emerging economies are in Asia. By one estimate, Asia will account for 45 percent of the world's total GDP and one third of world trade by the end of this decade," said the Indonesian leader.
"I will let the pundits debate whether we are on the threshold of an 'Asian Century.' Whatever you call it, one thing is indisputable: Asia is undergoing a rapid and strong economic, social, cultural, and strategic resurgence -- the sum of which is certain to redefine global affairs," he told the audience.
And Asia, he added, "is of course more than China, Japan and India." So "when you think of Asia, also think Indonesia, which is the world's third largest democracy, the largest economy in Southeast Asia, and a key growth area in the world economy."
Calling for a "21st century globalism," he also noted that regional blocs could play a key role in solving problems in their own backyard. The European approach to fixing their eurozone crisis was one example. But the 10-nation ASEAN grouping was another, especially when it comes to managing growth.
"The 21st century globalism that we seek should do away with dogmatism," he said. "To respond to these challenges, nations, corporations, and individuals have to be open-minded, pragmatic, adaptive, and innovative. In the new reality, no single power can shape the world order alone."
It was stirring stuff, for even the most hard-boiled deal-makers in the room. And it came just weeks after Jim O'Neill, chairman of Goldman Sachs Asset Management, and the man who first coined the term "BRIC," announced he was about to redefine emerging markets and add Indonesia, South Korea, Turkey and Mexico to a new list he would call "growth markets."
The sequence of events that followed next is important here, because first Sarkozy started lambasting speculators and calling for greater financial regulation, then Jamie Dimon of JP Morgan pushed back against criticism of the banking industry and got a rhetorical punch in the face from Sarkozy. And then the small bomb went off and 2,500 delegates at Davos had a momentary scare, a kind of Davos minute.
Earlier Thursday Dimon had complained that bashing bankers was "unproductive and unfair" and everyone should "just stop" being so hard on them.
Sarkozy devoted much of his own speech to explaining that Europe would "never abandon the euro" despite warnings from the likes of George Soros that the eurozone crisis of Greece, Ireland, and others could tear Europe apart.
"To those who would bet against the euro, watch out for your money because we are fully determined to defend the euro," he said in strident and menacing tones.
But when the JP Morgan chief rose to ask a question, which was more of a lecture to Sarkozy than a question, and which amounted to a call for more flexibility on new banking regulations, the French president exploded more loudly than the bomb blast a few blocks away.
He laid into bankers for their big bonuses in 2008 and 2009, when the world was reeling from a crisis triggered by Wall Street bankers. And then he turned to Jamie Dimon and said, "The world has paid with tens of millions of unemployed, who were in no way to blame and who paid for everything."
He blasted Dimon and other bankers for what he called "the scandal we saw" and told him, "There is an ocean of difference between flexibility and the scandal we saw."
Signposting the kind of presidency Sarkozy plans to run this year since France is president of the G-20 in 2011, he concluded, "If people present me as obsessed with regulation, it's because there is a need for regulation."
All of this will be hard to follow, and Friday brings a less spectacular debut than that of the Indonesian president, when Britain's new leader -- Prime Minister David Cameron -- tries to defend his massive budget cuts. It will also see the appearance of a more important leader than Sarkozy -- the Chancellor of Germany, Angela Merkel. Will Mr. Dimon provoke the leader of Germany as well?
*Update, August 25, 2011: The editor's note below was amended to more accurately reflect the period during which FBC represented the government of Malaysia.
Editor's Note, August 22, 2011: FBC Media, the public relations and communications firm chaired by Alan Friedman, was representing the government of Malaysia at or around the time Friedman wrote this post. According to our arrangement with Friedman, he should not have written about any clients of his company. After he did so, The Atlantic should have disclosed that relationship in a more timely manner. Recent media reports also suggest FBC may have been representing the government of Indonesia at the time Friedman wrote this post. We are reviewing Friedman's posts mentioning Indonesia. We will update this note with information regarding any business relationship we discover between FBC and the government of Indonesia.