Foreclosures Still Concentrated in Sunbelt Cities
The economic fallout from the nation's housing crisis continues to be geographically concentrated. New figures on foreclosure rates for 2010 from RealtyTrac show that Sunbelt metros continue to see the highest levels of foreclosure in the nation.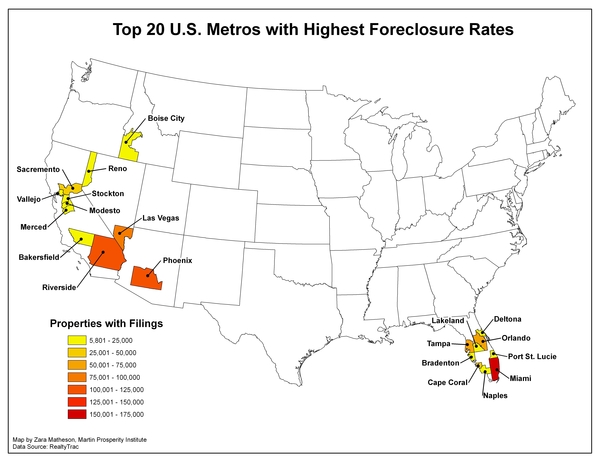 Miami tops the list with more than 171,704 foreclosures followed by Phoenix with 124,720 and Riverside with 101,210. The map above prepared by Zara Matheson of the Martin Prosperity Institute shows the 20 metros with the highest total number of foreclosures based on the RealtyTrac data.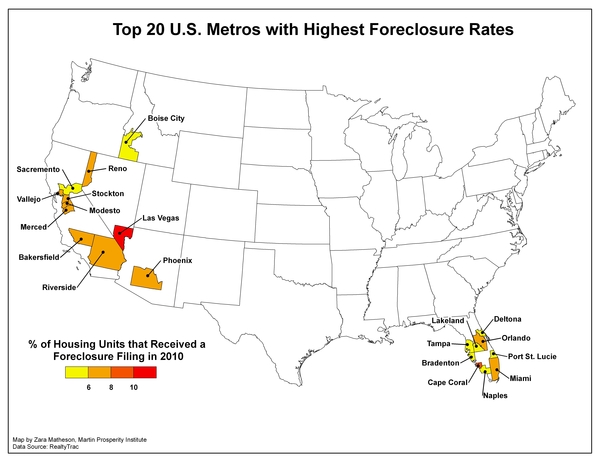 And, 19 of the 20 metros with the highest foreclosure rates are located in just three Sunbelt states --  Nevada, California, and Florida. In Las Vegas, a staggering one in 10 housing units (10.88 percent) went through foreclosure in 2010.
Unfortunately, foreclosure rates were up in nearly three-quarters (72 percent) of the 206 metros  tracked by RealtyTrac.  But, foreclosure activity was down in the 10 metros with the highest foreclosure rates, which could be a signal that the worst of the housing crisis is finally past.