Consumer Spending and Exports Boost GDP 3.2% in the Fourth Quarter
The U.S. economy grew at a moderate 3.2% annualized pace in the fourth quarter, according to the Bureau of Economic Analysis. This rate made it the strongest quarter since the first and was significantly better than the second quarter's 2.6% growth. Yet, last quarter's pace failed to meet expectations of 3.5% growth. So despite the improvement, the market wanted more. The quarter's growth was due mostly to stronger consumer spending and net exports, but occurred in spite of relatively flat business activity and a decline in government spending.
First, since the fourth quarter provides a full year's worth of data, we also know that 2010's GDP growth was 2.9% -- the most since 2005. Here's GDP growth for the past decade: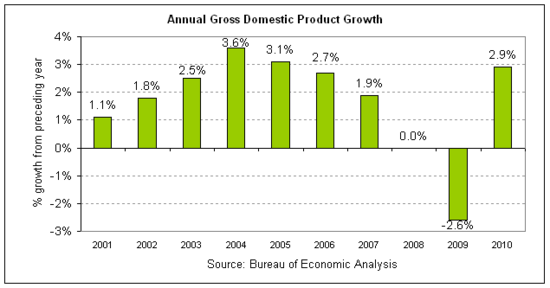 In fact, 2.9% looks pretty good from this historical perspective, as it was only beaten in the above period during the years 2004 and 2005. Of course, coming out of a recession, GDP growth tends to be magnified. Once the economy fully stabilizes, the trick will be maintaining a brisk rate of growth.
Now let's turn to what happened in the fourth quarter. Here's a chart showing how it stacks up against the recent past: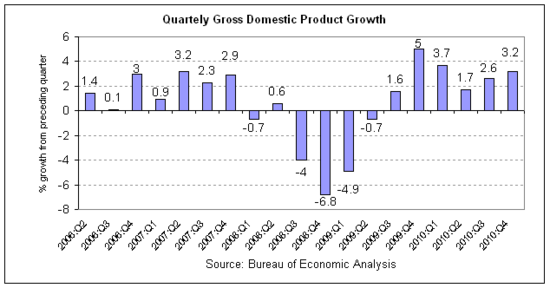 As with the annual rate, the quarterly rate also looks relatively good. It was only beaten by two quarters shown above, the last of 2009 and the first of 2010. Let's break down where this growth came from by looking at the economy's various components.
Consumer Spending
Americans continued to spend more in the fourth quarter. In fact, personal consumption soared, rising by 4.4% compared to the prior quarter. Within that spending, much of the growth came from consumers purchasing more 10.1% more goods. They also spent more on services, which grew by 1.7%.
Looking even more granularly, spending on durable goods soared, rising 21.6% compared to the third quarter. That was mostly due to more auto purchases. Within services, the biggest contributor to growth was more health care spending.
Private Investment
The fourth quarter growth occurred despite relatively weak gross private investment. It actually fell by 22.5% in Q4, compared to the prior quarter. The contraction in business investment was due almost entirely to anemic inventory growth. Business invested a mere $7.2 billion to increase their inventories, a $114.2 billion decline from the third quarter.
Almost all other aspects of business investment provided positive growth for the fourth quarter. Equipment and software spending led the way, up 5.8%. Even residential real estate investment increased by 3.4%.
Net Exports
The biggest major contributor to GDP growth last quarter wasn't consumer spending -- it was net exports. Exports increased by 8.5%, while imports declined by 13.6%. Although there was still a trade gap during the quarter, it shrunk by $112.8 billion, or 28.8%.
Government Spending
The government actually hurt GDP growth slightly. Its spending contracted by 0.6% last quarter. This decline was driven mostly by state and local governments, which spent 0.9% less than they did in the third quarter. National defense spending also fell, by 2.0%.

To sum up the quarter, consumer spending and net exports did quite well, while weak private investment and government spending reduced growth. If just consumer spending and net exports alone were considered, GDP would have grown by an impressive 6.5%. It didn't, however, because private investment plus government spending reduced growth by 3.3%.
As consumer demand continues to rise, so must businesses inventories. That means two things. First, inventory growth will help bring up gross private investment. Second, firms will also begin to hire more workers, which should further increase consumer spending. The question is just how aggressively that process will be.
Finally, it's important to take today's GDP report with a grain of salt. It still has two revisions to endure over the next two months. That could reduce or increase the final GDP growth number. In the third quarter, GDP was eventually revised upward from 2.0% to 2.6%. Let's hope refining the data provides a better picture of the U.S. economy's performance last quarter as well.