Consumer Price Inflation Jumps 0.5% in December
Inflation hit a 18-month high in December, as the consumer price index (CPI) rose by 0.5%, according to the Bureau of Labor Statistics. Most of that increase was due to energy prices rising, however. Does December's big increase mean that we can officially shrug off the threat of deflation and expect higher rates of inflation for 2011?
Let's start with some stats on 2010, since we now have data for the full year. Last month's increase in PPI resulted in the total inflation for 2010 of 1.5%. That's significantly lower than 2009's rate of 2.7%. But if you take out food and energy, then the picture changes significantly for both years. Without those components, so-called "core" inflation was just 0.8% in 2010 and 1.8% in 2009. This further demonstrates how much lower inflation was last year compared to 2009.
Moving back to December, here's how its 0.5% spike compares to the prior 12 months:

December's increase was the largest for a month since inflation hit 0.7% in June 2009. And that was an outlier, as you would have to go back to July 2008 to find another month where CPI was higher than 0.4%.
The increase in consumer prices last month was due in large part to energy, however. Its prices rose by 4.6% during the month -- something you have likely noticed at the pump. Gasoline, in particular, was up 8.5%.
Although food prices didn't rise much, only by 0.1%, excluding those two components results in a much lower core inflation rate in December of 0.1%. Here's the chart for core inflation since the beginning of the recession: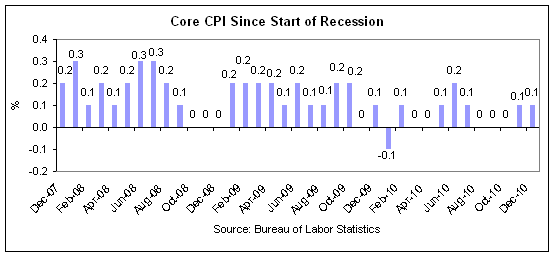 You can see that, by this measure, December's CPI increase was largely in line with that over the course of the past few years. In fact, it was on the low-end.
As yesterday's analysis of producer prices noted, if energy is the only price rising aggressively, it's a little too soon to declare that prices will begin rising more quickly across-the-board as a longer-term trend. Indeed, we've only seen much higher inflation for one month. But it's beginning to look more and more like any worries about deflation are behind us. The Fed appears to be succeeding in raising inflation though its latest quantitative easing measure, consisting of $600 billion in asset purchases.