Consumer Credit Expanded Slightly in November
The month's increase was smaller mostly because the government didn't prop up the market as much as it did in October
After a sizable increase in October, consumer credit expanded by just $1.3 billion, or an annualized rate of 0.7%, in November. The Federal Reserve reports that nonrevolving credit, like auto and student loans continued lead the way. Meanwhile, balances of credit cards and other forms of revolving credit continued to decline. Why was November's increase so much smaller than the prior month's rise? The government wasn't as involved.
Here's the basic chart for how credit has changed since the recession began: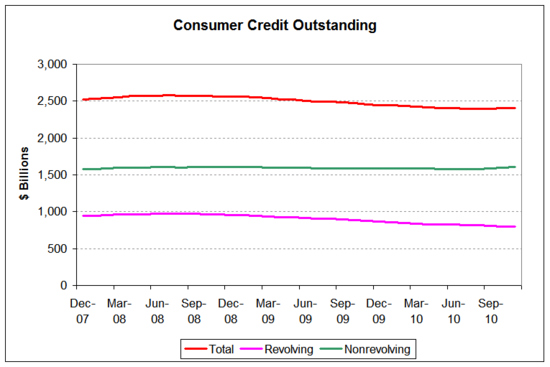 Revolving credit (purple line) continues to decline, now for 27 straight months. It's now 18.2% below its 2008 high. Its annualized 6.3% decline in November was the smallest decline since June, however. So it's possible that credit card usage began to rise in November as holiday shopping began.
Nonrevolving credit (the green line) is another story. It is beginning to approach its 2008 high of $1.609 trillion. It reached $1.607 trillion in November, which was the most since January 2009. During November it rose at an annualized rate of 4.2%, considerably less than the 9.4% jump in October.
Why didn't nonrevolving credit increase as much in November as in October? The government drove October's big increase, but it wasn't as active in the student loan market in November. It increased its credit holdings by just $3.6 billon in November, compared to a $31.8 billion increase during the month prior.
So the story here is a consistent one. Consumer credit is slowly rising, driven by nonrevolving credit. When the government is expanding its holdings, then that increase is generally larger. But revolving credit continues to fall, showing no sign of stabilization.