Consumer Confidence Jumps in January, Highest Since May
Americans may have resolved to be more optimistic about the U.S. economy this year. Consumer confidence jumped this month, according to the Conference Board. Its index rose 7.3 points to 60.6. That's the highest value since May of last year, and the biggest one-month increase May 2009. It also contrasts with a slight decline in sentiment in December. The trend appears to indicate that Americans are slowly feeling better about their economic situation.
Here's the chart showing some history: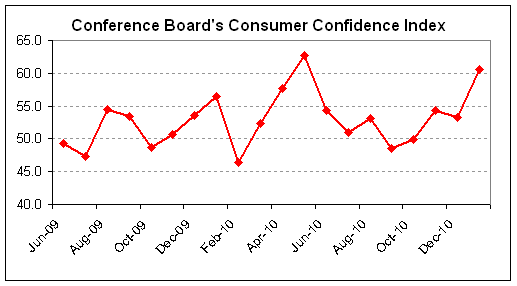 You can see how big a jump sentiment had in January. Since the confidence measures are so volatile, it's hard to really see what's going on in terms of a trend here, however. So here's another version that uses a three-month average: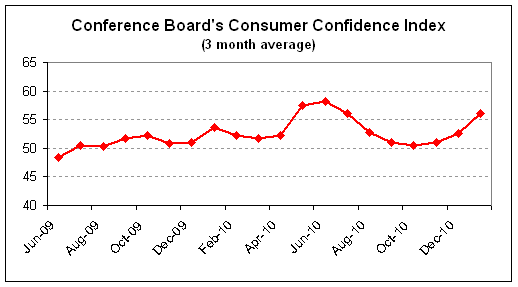 From this, it's pretty clear that the trend has been slowly improving since November. At this point, the trend looks a lot like it did leading into May -- before the economy hiccupped as the housing market began to stumble without the government credit's support.
The Conference Board also reports very strong increases for its other measures of sentiment. Its Present Situation Index increased to 31.0 from 24.9, its highest value since November 2008. Its Expectations Index also rose significantly, to 80.3 from 72.3, which makes it the highest since May.
This is definitely a good way to start 2011. If consumer confidence continues to grow, then so should spending. As firms sense stronger demand, hiring should finally start to grow at a brisker pace.