Auto Sales Jumped in December
The auto industry recovery appeared to strengthen in December. A roundup of U.S. sales results for the seven major automakers, GM, Ford, Toyota, Honda, Chrysler, Nissan, and Hyundai, reveals that sales up were 9.7% compared to the same month in 2009, and 33.3% compared to November 2010. American consumers purchased close to 1 million vehicles from just these seven companies in December.

Here's the comparison of the year-over-year change in sales for the big seven: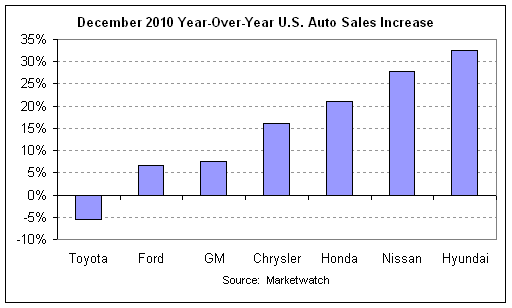 It's not hard to see which automaker may not have been thrilled with its December results. Toyota was the only in this list to experience a year-over-year decline. Moving across the chart, the three American automakers experienced modest sales growth. Honda, Nissan, and Hyundai all had sales more than 20% higher than a year earlier.
The news is even better if you compare December's results to November:
Suddenly, Toyota's performance doesn't seem so bad. Its month-over-month sales increase was second only to Honda. All of these automakers saw their sales grow by at least 25% compared to November, except for Hyundai. Even though its sales led the year-over-year increase, they grew by only 10% compared to a month earlier.
Here's how the market share picture for these seven automakers changed moving from December 2009 to December 2010: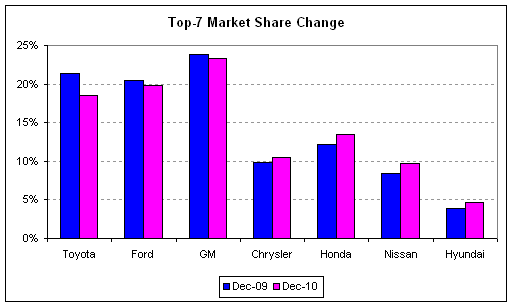 The narrative here is similar to what it's been over the past several months. Toyota, Ford, and GM continue to shed market share. Toyota, in particular, has lost 3% within this universe of companies over the course of the year. In the meantime, the other foreign auto companies are mostly scooping up what those three are leaving behind. Honda and Nissan saw their shares rise by more than 1% each. Here's another chart showing the December market share for this universe of seven automakers: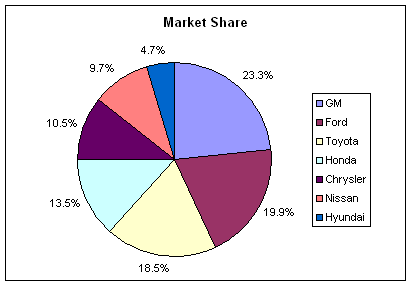 As the economy continues to improve, auto sales should too. Many Americans held off on making a big purchase like a car when they were uncomfortable spending money. As their confidence improves, so will their willingness to purchase a new vehicle. We've already been seeing this relatively consistently throughout the past year, and the auto companies expect 2011 to treat them even better than 2010.
Sources: GM, Ford, Toyota, Honda, Chrysler, Nissan, and Hyundai