After Slashing Through Newspapers, Internet News Eyes TV
If you were writing an obituary for newspaper, you would probably state that its fatal illness became critical in 2008. That year more people began preferring the Internet for news than newspapers. In the two years since then, the distance between those who choose the online news over newspapers has widened to 10 points, according to a new report from Pew. But Internet isn't finished in its quest for news supremacy. Television may be the next traditional media source to fall, as its lead on Internet news is beginning to shrink.
Here's a chart showing which sources Americans prefer to get their news from (they could chose up to two sources, which is why they these percentages add to more than 100):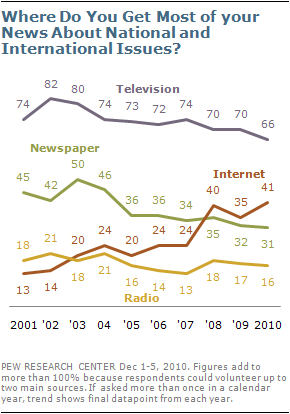 You can see that the only consistent growth has occurred for the Internet. Its popularity increased by 28 points during the decade, while all other sources shown because less popular. Over that period, the net preference for TV news over Internet news declined from 61% to 25%. That's a pretty incredible swing towards online news.
From this alone, it seems pretty likely that the Internet will overtake television as Americans' favorite news source in coming years. But if you look a little deeper into Pew's poll, then this outcome looks even more inevitable. Check out the breakdown by age for the poll results above: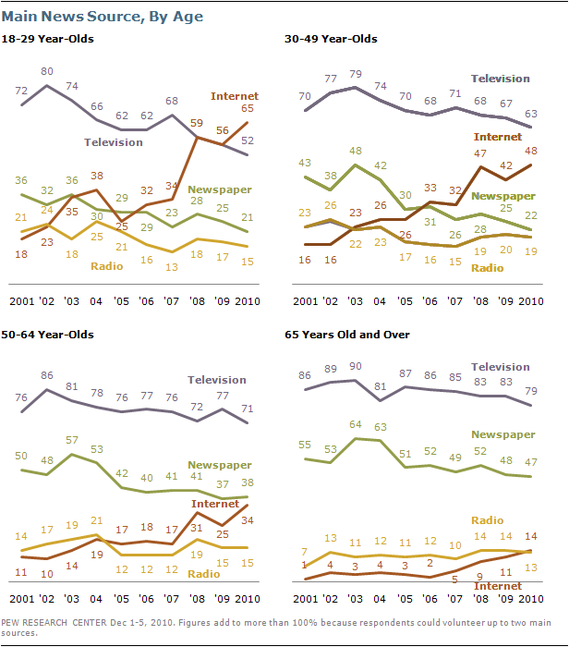 For 18- through 29-year-olds, TV is already beaten. And as ages of those polled increase, the preference for television over Internet widens. This implies that as younger generations grow older and become a larger portion of the total, Americans' overall preference for the Internet should increase even more quickly. Of course, this makes sense, since younger people tend to be more comfortable using the Internet for many things, including the source of their news.
>