4 Key Predictions From the 2011 Budget Report
By the end of this year, unemployment will fall to 9.2 percent, the economy will be expanding healthily and we will boast the highest nominal federal deficit in U.S. history. Those are three of the many predictions made by the Congressional Budget Office in its latest outlook of the economy, released just this morning. Read the executive summary here.
Here are 4 key conclusions:
1. Short term deficits. Even with optimistic growth figures, this year's nominal deficit could be the highest in U.S. history at $1.5 trillion. The deficit will stay over $1 trillion again in 2012, for the fourth consecutive year, before falling sharply in the middle of the decade as the economy picks up and tax revenues recover.
2. Medium term debt: Public debt as a percentage of GDP (a key statistic for budget wonks) is expected to stabilize around 75 percent, which is historically high but not high enough to be considered dangerous by most experts. However, that's only if Congress agrees to revert to 1999-era tax rates when the 2010 tax compromise expires next year -- which is highly unlikely. So the CBO also calculated an alternative projection that makes realistic assumptions about Congressional votes in the next few years. Under this less rosy scenario, U.S. debt would equal GDP by 2020. A 100% debt-to-GDP ratio is, in a word, troubling. In a graph:
3. Jobs
. CBO projects the unemployment rate will fall to 8.4 percent by the time we hold the presidential election in the fourth quarter of 2012. The economy is not projected to return to full employment until 2017. In other words, if Obama wins that reelection, the economy would not return to full employment until the first year of our 45th president. In a graph: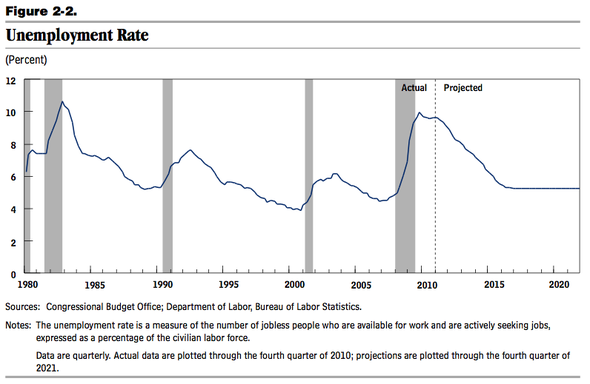 4. Spending
. Our debt is clearly on an untenable trajectory, but where is the growth in spending coming from? It's not coming from the stimulus, which is winding down this year. It's not coming from the bailout money for Fannie, Freddie and the banks, which is also winding down this year. It's also not coming from discretionary spending, which is projected to decline for both defense and non-defense categories. Instead, it's coming from mandatory spending. Nominal spending on Medicare and Medicaid will double between 2010 and 2020, growing 50 percent faster than the overall budget.