Will Strong Holiday Sales Help to Create Jobs?
The U.S. economy got some more good news today: consumer sentiment is the highest in six months, according to the Thomson Reuters/University of Michigan survey. This news couldn't come at a better time for retailers with holiday shopping season underway. Indeed, the sales numbers so far appear to confirm that consumers don't mind opening their wallets this year, as early shopping exceeded even optimistic expectations. But will strong holiday sales translate into jobs in 2011?
Many firms actually could have hired more aggressively throughout 2010. Some had plenty of cash on hand and had seen profits rebound somewhat since the recession peaked. But many observed that consumer sentiment remained low and weren't convinced that there was enough demand for their products to warrant much hiring.
But confidence is rising. Strong holiday sales indicate that demand getting stronger as well. Firms may very well interpret this as a signal that it's time to hire. After all, if weak demand was really the only thing preventing them from bringing on additional workers, then that barrier is beginning disappear.
Yet, will firms take stronger November/December sales to mean that the American consumer has really returned, or just made a momentary appearance for the holidays? After all, nobody likes to be a Grinch during the holidays, so it's possible that consumers are temporarily relaxing their stinginess for gift buying. Once January hits, they might put their wallets away again.
If anything, a strong confidence trend could deter firms from worrying about this latter possibility. Unfortunately, we don't appear to have a solid trend just yet. Here's the chart for the Conference Board's measure through November: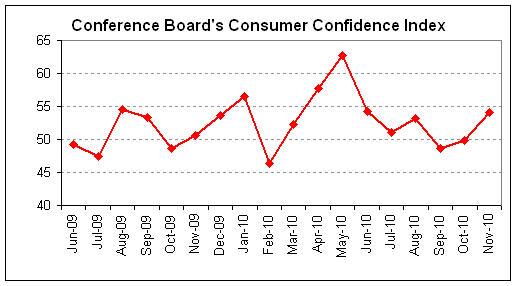 While confidence has increased a lot recently, we're only talking about two straight months of upward momentum. Firms will may want a couple more months of increasing sentiment before accelerating their hiring plans. The fact that much of this renewed confidence comes during holiday shopping season provides further reason to wait. As the chart above shows, last year confidence rose steadily through January, and then took a dive.
If consumer confidence does continue to grow through February, then firms certainly should begin hiring more aggressively. But we might not see a lot of additional hiring before then, as they may fear that the holidays are skewing consumer psychology and behavior.