Why Were the November Jobs Numbers So Bad?
"Ugly and odd." That's the best way to think about November's unemployment report.
Here's the ugly part: Last month's poor numbers shocked economists and commentators with only 39,000 jobs added and with basic unemployment rising to 9.8%. We now have the same employment-to-population ratio we had 11 months ago, Brad DeLong writes. More than a million jobs have been created in the private sector over the last year. But that's not enough to keep up with a growing population.
Here's the odd part: Almost every key indicator in the economy is getting stronger (except in housing). There are plenty of reasons to be optimistic about a modest but steadily improving economy throughout 2011. So why is the job market stumbling: Weak housing data? Too much hiring in October? Or are these faulty numbers that will be revised later?
We don't know yet. Let's look at where the jobs are coming from. This graph shows where jobs were lost in the recession and gained in the recovery. In the downturn, manufacturing and construction led the losses while health care and federal hires buoyed the labor market. In the upswing, it's service jobs, manufacturing jobs and (once again) health care jobs leading the way.
But state and local government, finance and construction continue to drag the economy. Retail has been uneven. After a strong October, stores' hiring in November was extremely disappointing.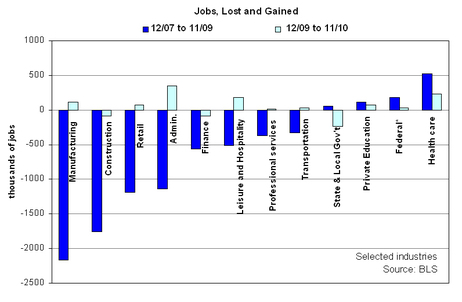 What can we make of this? State and local government, so stable during the downturn, are loss leaders in the recovery. It shouldn't be this way, and it doesn't have to be. Congress can pass another state aid bill that ties short-term stimulus money to long-term fiscal reform at the state level. But we won't.