Using Google Maps to Find Foreclosures
You can add foreclosures to the list of searches that Google excels at executing. Barry Ritholtz of The Big Picture blog explores the amazing functionality provided through Google Maps, which he says has been around for a while but has improved recently. It's both incredible and awful to see just how foreclosure continues to plague the U.S.
Here's how it works, from Chart Porn, via Ritholtz:
Google Maps Foreclosure Listings
1. Punch in any US address into Google Maps.
2. Your options are Earth, Satellite, Map, Traffic and . . . More. (Select "More")
3. The drop down menu gives you a check box option for "Real Estate."
4. The left column will give you several options (You may have to select "Show Options")
5. Check the box marked "Foreclosure."
Then, you can just play. For example, let's plug in the address of my favorite house from my neighborhood growing up, (1280 SW 21st LN, Boca Raton, FL) located in a nice neighborhood of homes in South Florida and activate foreclosure listings (the map below is interactive, but the rest or not, because of an apparent bug in Google's embedded code):
That house (located a few blocks east of marker "B") doesn't appear to be in foreclosure, but a few around it are. This neighborhood wasn't as affected as some others in South Florida, however. So let's zoom out a little to see more damage.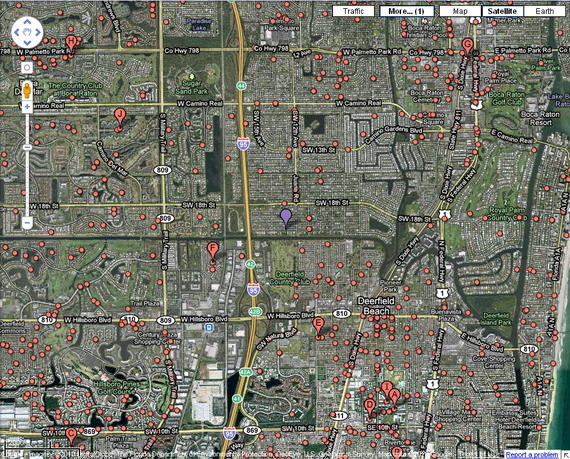 See all those red dots? Those are properties in foreclosure. This is only a few square miles. Let's zoom out further: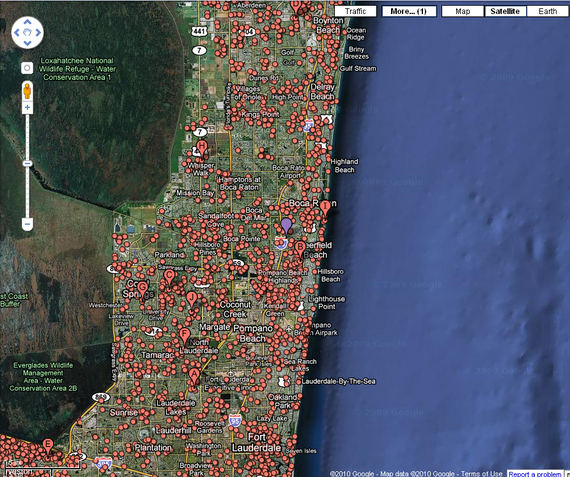 This encompasses much of Broward and Palm Beach counties. Clearly, there is a lot of devastation in the housing market in these regions. But enough of Florida. Let's zoom out to the U.S.: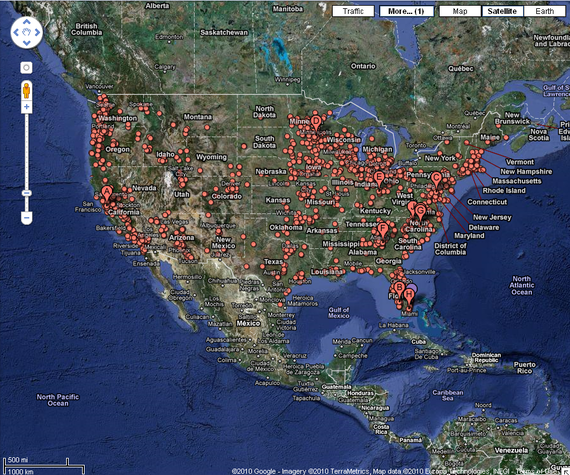 This map doesn't really do reality justice, because it approximates regions with foreclosures. But it does help to show that this is a national epidemic, even though the problem is especially serious in a few key states like California, Florida, Arizona, and Nevada.
It's a little unclear how Google aggregates this data, but it appears to be based on various foreclosure sale websites like RealtyTrac.com, RealtyBargains.com, and HomePath.com (via Fannie Mae). A request for aggregation methodology has been submitted to Google, and an update will be posted here if the company responds (and they did -- update below).*
Assuming that Google's data is accurate, this is a pretty powerful tool for home buyers looking to score a deal on a foreclosure listing. Although some of the listings require using a third-party realtor website, Google maps can at least give users an idea of the general location of foreclosure listings in an area where they are interested in buying a home.
Of course, this functionality also shows the horrible state of the housing market. And remember: this only shows the foreclosures currently on the market -- not the shadow inventory or those already sold over the past few years. And more homes are added to the list every day. The market has an awful lot of foreclosure inventory to work through before it can begin recovering.
* Update: Google says that these listings are actually submitted to them by various foreclosure listing websites that adhere to its standards. This means that the Google data probably even  underestimate foreclosures, as certainly not every foreclosure listing out there is being submitted to Google.