U.S. Exports Jumped to Pre-Financial Crisis Level in October
You can add international trade to the list of positive U.S. economic indicators for October. The trade deficit shrunk by $5.9 billion to $38.7 billion during the month, according to the Bureau of Economic Analysis. That's still a big trade gap, but it's the smallest since January. The amount by which it declined is also the most since February 2009. The best part: it was mostly driven by a huge increase in U.S. exports.
Let's begin with the chart: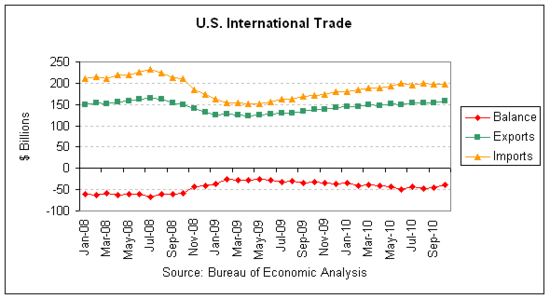 This helps to show just how great a month October was compared to those prior. The red line (the trade balance) ticked up significantly, as the trade gap declined by 13.2%. And check out the green line for exports. They rose by $4.9 billion or 3.2%. You have to go all the way back to August 2008 -- before the financial crisis peaked -- to find a value higher than October's tally of $158.7 billion. Imports also declined slightly, by $939 million, which also helped shrink the gap.
More goods sold overseas led the U.S. increase in exports. Those sales rose by $4.5 billion, compared to a $425 million increase in services exported. The deficit was also cut further by the U.S. importing $1.2 billion less of goods from overseas than in September.
October marked the second straight month that the trade gap has declined and exports have grown. It's too early to call this a trend, but trade trade is certainly headed in the right direction. This is especially important to hopes that exports will add fuel to the U.S. recovery. More global demand for American goods and services would translate into firms hiring more aggressively.