Unemployment Rises to 9.8% in November as Job Creation Sputters
Despite a relatively strong economic performance in October, the U.S. unemployment rate rose to 9.8% in November after sitting at 9.6% for three months. Although October saw 172,000 new jobs, November saw far fewer, with payrolls increasing by just 39,000. Economists expected significantly better, predicting 155,000 new jobs. This is one of the strangest and most surprising monthly unemployment reports yet from the Bureau of Labor Statistics.
Before getting into what's going on here, let's start with a few charts. Here's the unemployment rate over the past two years: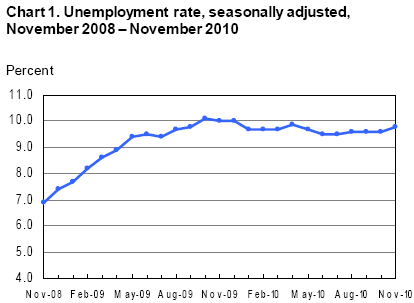 As you can see, the increase to 9.8% makes November the worst month since April and the second worst of the year. Here's another chart showing how many jobs were added or lost each month: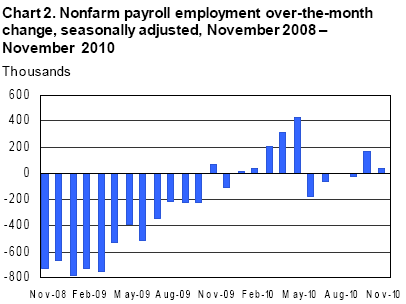 This chart is pretty weird after about May, but that's due in large part to the Census hiring and then firing. It helps instead to look at just the private sector, which has added jobs all year: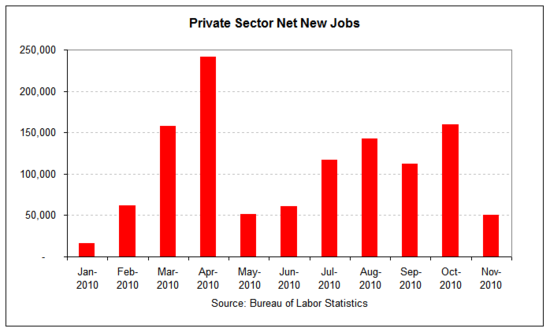 This chart shows just how disappointing November's job growth was. The private sector added 50,000 jobs, the fewest since January.
By any measure, November was a weak month for job creation, but how did the rate rise so much when jobs were actually added? To understand this, you must understand how BLS estimates these statistics. In fact, it uses two separate surveys for each variable -- its "Household Survey" provides the unemployment rate and its "Establishment Survey" provides the number of jobs added or lost overall and in each industry. While these surveys never line up exactly, in November they were way off.
The Household Survey, which led to the 9.8% unemployment rate actually shows that 276,000 people more were unemployed in November. This is the biggest monthly increase in jobless Americans that the Household Survey has indicated since October 2009.
The Establishment Survey tells an entirely different story, however. It says that 39,000 net jobs were added to the economy. Here's the breakdown for selected industries: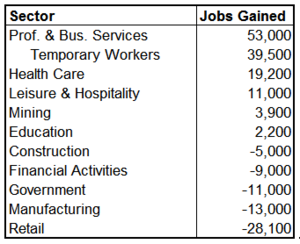 First, you can see that, without the additional temporary workers, there would have been no net job growth at all in November. In general, however, most sectors performed worse than in October. One particularly dim spot was retail. Its 28,100 decline last month contrasts with a similar increase in jobs in October. You might think that retailers would ramp up there workforce in November, in preparation of holiday sales. You would actually be correct, as jobs technically grew in the sector, but they declined on the seasonally adjusted basis shown above. In other words, retailers didn't hire as aggressively for the holidays as they usually do.
Another potential explanation for the unemployment rate rising while jobs were added would be if some of the workers who had exited the workforce began looking for jobs again and increased the participation rate. That didn't happen in November, however, as the participation rate was virtually unchanged. In fact, the number of discouraged workers hit a new high of 1.28 million: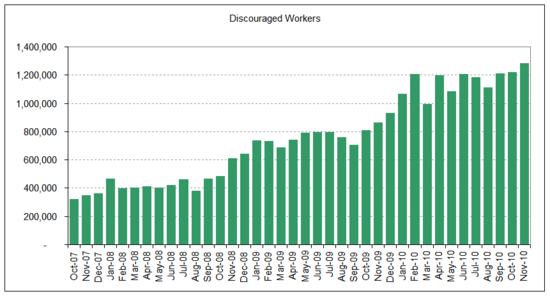 That's an incredibly high number. This means that if the economy grew by 200,000 jobs per month, it would still take more than six months to work through just the population of discouraged workers before bringing down the unemployment rate at all.
The broadest rate of unemployment "U-6," which includes those discouraged workers as well as those marginally attached or working part time due because they can't find full-time work was steady at 17.0%. You know it must be a pretty rotten report when the closest thing to a silver lining is that the U-6 was flat at 17.0%.
November's unemployment report comes as a pretty big disappointment. After one of the strongest months of the year for jobs in October, employers slowed their hiring and increased their firing for some reason last month. To make matters worse, the wide disparity between the two surveys conducted by BLS further clouds the jobs picture. Yet even the better of the two estimates shows anemic job growth, at best. Despite stronger consumer sentiment and relatively brisk spending in October, businesses just aren't adding enough workers to reduce the unemployment rate, which is again approaching double-digits.