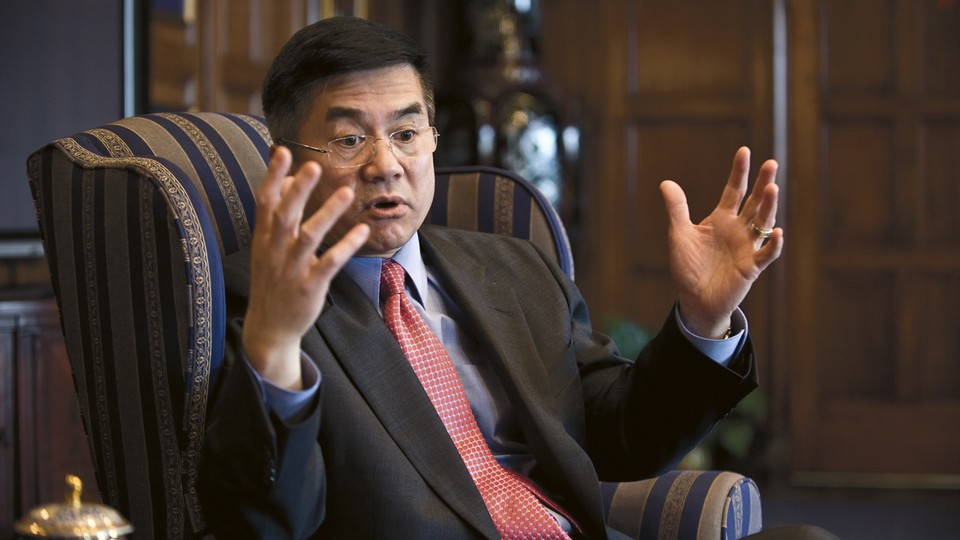 Commerce Secretary Gary Locke has made himself the de facto international pitchman for American manufacturing, and with good reason: Locke believes that the future of the nation's factories is directly linked to increased exports — led by clean energy, advanced medical devices, aerospace, and other high-skilled fields. In an interview, he declared that America's "manufacturing future is bright," and touted his department's work in helping Boeing sell jumbo jets in Russia and Harley-Davidson peddle motorcycles in India.
We've seen some signs of life in manufacturing in the last couple of months. Why? What can we expect in the near future?
LOCKE: Manufacturing is an important element of the economic recovery. Retail sales are up. Consumer confidence is rebounding. Factory orders are up. That will spill over into the manufacturing sector. Quite frankly, the areas in which we excel, from high tech to medical devices to aviation, exports of those items are up. The more U.S. companies export, the more they produce. The more they produce, the more people they hire. So much of what Americans make is highly desired around the world. With the economy recovering around the world, with a growing middle class in Asia and China, they want these products.
How competitive are American manufacturers on cost right now?
LOCKE:  You're actually seeing a lot of manufacturers come back to the United States. Look at all the foreign auto companies that are building plants here "¦ some of which is actually for export. The BMW, the 300 series that's being built in South Carolina, is not all for domestic consumption. Some of that [output] will actually be exported. You're finding that the cost of labor, the cost advantage elsewhere, is not as sharp anymore. [Factoring in] the requirements of just-in-time delivery, transportation costs, a whole series of questions about delivery, and even the fact that the cost of labor is no longer such a major component of the final cost of the project — many companies are now looking more favorably to manufacturing in the United States.
What are our advantages?
LOCKE:  A highly skilled workforce. A very predictable, stable political and economic climate. Safety of investment. You'll find that there are a lot of new entrepreneurs and wealthy individuals all around the world, and as they gain their wealth, they're looking for a safe place for their investment and their income.
Is there opportunity in companies from emerging countries — India, China — opening manufacturing facilities in the U.S.?
LOCKE:  I think you're seeing a lot more of that. You're seeing a lot more interest from the emerging countries wanting to bring their families here, and to take advantage of the knowledge base here, and the R&D that occurs here.
Is the character of U.S. manufacturing changing?
LOCKE:  Our strength is going to be in high technology, advanced manufacturing, things like advanced medical devices, aviation, clean energy, energy-efficiency devices, semiconductors.
China is building up its higher-education system. More of our foreign college students are returning to their home countries after graduation. Are you worried that we're losing ground in the knowledge base needed for advanced manufacturing?
LOCKE:  That's why the president has also been focusing on the education system, and why I constantly tell the business community that its agenda must include education. We have to ensure that we also have visa policies that encourage the best and the brightest not only to come to the United States for advanced degrees but also allow them to stay here.
How much will the European debt crisis affect American manufacturers?
LOCKE: Obviously, it's a factor, but when you look at even the emerging countries, from China to Brazil, India to Russia, there's enormous potential there — absolutely enormous potential there. We're really focusing on breaking down a lot of [trade] barriers that American firms face.
The author is economics correspondent for National Journal.