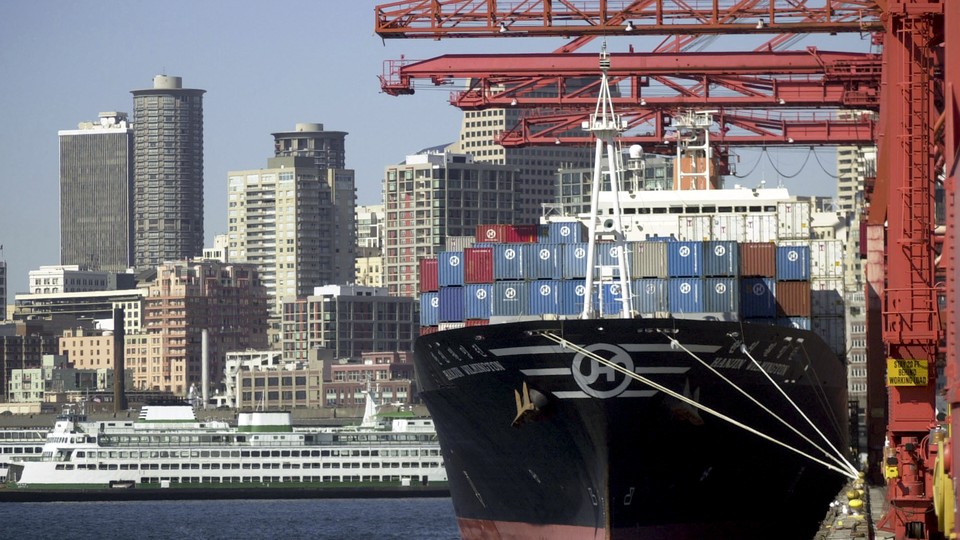 It's probably no surprise that Seattle and its surrounding cities have developed an innovative and comprehensive program to encourage local businesses to increase their exports. After all, Seattle is coastal and cosmopolitan, Asia-facing and technology-embracing, home to world-girdling brands such as Microsoft, Boeing, and Starbucks. The tradition of trading abroad is as deep as the city's spectacular port.
It's a bit more unexpected to find northeast Ohio pursuing opportunities in Europe, Asia, and the developing world. In popular imagination, Cleveland and nearby cities such as Youngstown are victims of globalization stranded in a blasted Bruce Springsteenesque landscape of deserted steel mills and rusted cars. In all of these communities, the scars of America's manufacturing decline are etched in lost jobs and abandoned factories — hulking relics of the nation's industrial might that are now, as Springsteen recorded in his piercing ode to Youngstown, "just scrap and rubble."
Yet from that stony ground, renewal is sprouting. Companies that produce cutting-edge medical devices, thin-film polymers for display monitors, sophisticated heat-trapping components critical to cell phones, and dozens of other advanced products are expanding production across northeastern Ohio, hiring workers — and selling to markets around the world. "There is this pervasive sense that globalization hasn't been good to us," said Brad Whitehead, president of the Fund for Our Economic Future, a Cleveland-based nonprofit that underwrites economic development work. "But perception has not caught up to the fact that the industrial Midwest can be, and increasingly is, competitive in global markets."
Overall, the United States still imports more than it exports, and the list of products that were formerly made in America remains daunting. Opinion polls show that the public is increasingly souring on free trade. But the familiar narrative of decline and retreat before a tide of low-cost imports doesn't capture the full ledger of America's place in the global economy. Exports now equal about 11 percent of total U.S. economic output, about double the level of 1970. And more cities are benefiting from that rising tide of foreign sales than most Americans recognize — often, even in those cities themselves. Access to international markets is already central to the prosperity of many places where protectionism is often a winning political argument.
The Brookings Institution, in an illuminating study last summer, found that exports already account for at least 10 percent of the total economic output in 58 of the 100 largest U.S. metropolitan areas. Across those 100 communities, the study found, exports provide for more than 8 percent of total employment — 7.7 million jobs. Fully 40 metropolitan areas have increased their exports by at least 10 percent annually since 2003, after adjusting for inflation. President Obama has set the ambitious goal of doubling American exports over the next five years. But "we already are more export-oriented than we think we are," said Bruce Katz, director of Brookings' Metropolitan Policy Program, which conducted the study.
Perhaps the study's most striking conclusion was the breadth of export activity. The 20 cities that most rely on export-related jobs include, not surprisingly, San Jose, Calif., Seattle, and Portland, Ore. — Asia-oriented hubs of high-technology innovation filled with young professionals, bike paths, and coffee bars that offer options of Euclidean complexity. But the list also includes places where the morning coffee run is more likely to McDonald's or Dunkin' Donuts: Hartford, Conn.; Rochester, N.Y.; Milwaukee; Greensboro, N.C.; and Toledo and Youngstown in Ohio. Only San Jose (at 22.7 percent) generated a larger share of its employment from exports than did Wichita, Kan. (22.3 percent), where a vibrant global-sales network has developed around civil-aviation powers such as Cessna and Hawker Beechcraft.
Yet in many, if not most, American cities, the importance of exports to the local economy is a mystery, Katz said. "When the president gets up and says, "˜Let's double exports,' many local government, civic, and economic officials don't see themselves in that narrative." Most cities, Katz said, still define economic development as building stadiums or attracting "10,000 people to live downtown." Few have constructed a strategy to create jobs by systematically encouraging their businesses to sell into the global market. Formulating such a plan, he lamented, "is an unnatural act in most American metros."
Bill Stafford agrees. For two decades, he has headed the Trade Development Alliance of Greater Seattle, a pathbreaking effort to expand the region's opportunities in the international economy. Over that period, he said, the alliance's efforts "have been copied more overseas almost than in the United States."
The Seattle trade alliance shows what cities and regions can do when they recognize that they are competing in a global race. Launched in 1991, it organizes an annual "study mission" to learn from the economic strategies of major cities around the world (recent targets have included Abu Dhabi, in the United Arab Emirates; Helsinki, Finland; and Melbourne, Australia) as well as an annual trade mission that pursues market opportunities in such countries as China, India, Taiwan, and Vietnam. It assembles delegations that combine representatives of smaller companies and executives from Microsoft, Boeing, and other titans. "We use the big guys to open doors," Stafford said unapologetically.
At home, the alliance has organized workshops that provide technical assistance on every aspect of exporting, built a database that allows foreign economic officials to find local suppliers, and systematically marketed Washington state colleges and universities to foreign students — partly in the hope of attracting future entrepreneurs who will start local businesses. "It's an integrated approach," Stafford said. "The game is played so differently around the world. This country and, for that matter, our state and our region have been able to ignore [that]. We've been smug."
Smugness isn't a problem in northeast Ohio. Since the 1970s, the region has been battered by plant closings and population decline. Youngstown has lost about a quarter of its residents just since 1990. The region's challenges today remain formidable: In Youngstown's Mahoning County, unemployment approaches 11 percent.
But the city and the region no longer feel that they are in free fall. Local governments and nonprofit organizations have developed an array of programs to nurture new manufacturing firms, and amid all the challenges of the Great Recession, those efforts are producing green shoots. "We have a growing segment of advanced-technology companies," said Jay Williams, Youngstown's dynamic young black mayor. "These are all fairly small, not the steel mills of the old days with thousands of employees, but they are skilled and are seeing growth even in this economy." Central to that growth strategy, Williams said, is "expanding into exports and other markets."
Nationally, Brookings reports, only about one in every 100 U.S. businesses exports to foreign markets. As part of the strategy to promote export growth, northeast Ohio has systematically worked to broaden that circle. "The really interesting piece of this is how the exporting economy is becoming increasingly critical to the midsized manufacturers and even many of the startups," said Cleveland's Whitehead. "Companies are going into foreign markets earlier and as a more fundamental part of their strategy than they might have a decade ago."
One program helping Ohio companies take that leap is the Manufacturing Advocacy and Growth Network. For five years, it has operated a global-services program that provides practical guidance to businesses on how to enter foreign markets; just since July, about 500 companies have attended its programs. Dan Berry, MAGNET's president, said that the group is further expanding its assistance for small and midsized enterprises because all manufacturers will need "some level of competency working with international markets looking ahead."
Far too few urban officials are moving as systematically to help local businesses crack foreign markets and overcome obstacles that range from language barriers to intellectual-property theft. Brookings's Katz argued that the United States is unlikely to double its exports unless cities and counties set goals of their own — and establish concrete plans to meet them. "This really is a challenge to the current generation of city and metro officials to up their game," he said.
Stafford, in Seattle, similarly argues that the United States needs the equivalent of a "political campaign" to focus local officials and business executives on both the opportunity and imperative of selling more to nations whose economies are growing faster than ours. "It's going to take a major effort to get this country to look at exports and international competitiveness as a major thing we're going to need to do," Stafford said. "We're probably going to keep grinding along at 1 to 2 percent growth if we don't start exporting."
The author is the editorial director of National Journal. NJ researcher Scott Bland contributed to this report.