Tourism Continues to Recover
Travel and tourism is ramping up. Spending on vacationing increased at an 8.0% annualized rate in the third quarter compared to the second, according to the Bureau of Economic Analysis. That's the biggest quarterly rate of growth for the industry since early 2004. This is an important step for the recovery, and a few suffering states, in particular.
First, here's a chart showing how tourism spending has changed since 2003: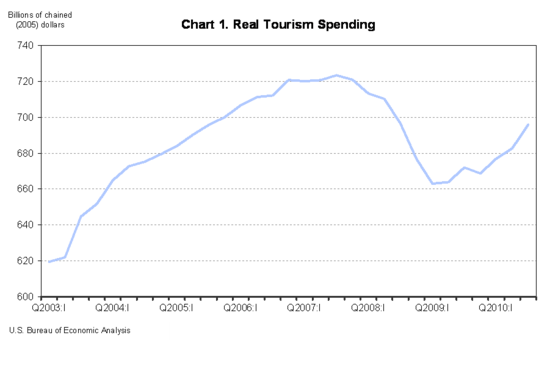 Clearly, tourism spending has been growing at a nice pace over the past couple quarters. Yet it still remains $27.5 billion below its high mark hit three years prior. For it to get to that point, it would have to consistently grow at a rate of around 3.8% for the next year. That doesn't seem beyond the realm of possibility, however, because it's close to the 3.6% average rate of growth over the past four quarters.
Within the specific segments of tourism, air travel spending had the biggest gain last quarter, increasing a dramatic annualized rate of 29.8%. Travel accommodations were also up strongly, rising at a rate of 9.5%. Food services, recreation/entertainment, and shopping gained at slower paces of 2.0% and 6.0%, and 2.6%, respectively.
Tourism's recovery is a very important signal within the broader economic recovery. One of the biggest cuts consumers make in their discretionary spending when times get tough is their vacationing. As the industry returns, it's one of the best indicators that consumers are becoming as comfortable spending as they were before the recession hit.
And this is also a very good sign for a few of the states that were most severely hit by the recession. Nevada, California, and Florida had the first, second, and fourth highest rates of unemployment in November, all at or above 12%. All three also have economies where tourism makes up a major portion of their income, especially Nevada and Florida. These states desperately need some good news, and as tourism grows they may begin to feel some relief.