This Is What a Good Deal for Democrats Looks Like
Via Ezra Klein, the chart is the simplest breakdown of the tax cut deal I've seen. Democrats get a tax-cut stimulus for the middle class and businesses, plus $56 billion in unemployment benefits. Republicans get tax cuts on the highest income and a watered down estate tax. That's the deal.
Not pictured is the 80 percent of the Bush tax cut law that both parties wanted to extend.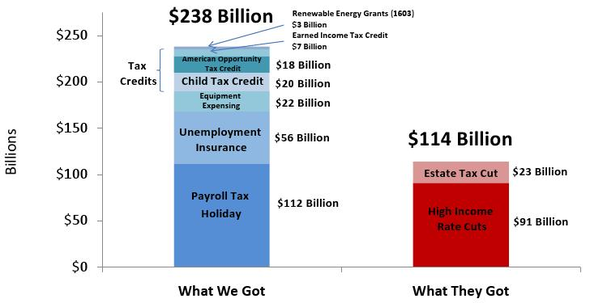 Two points. First, you might be asking yourself why the president is facing a revolt on the left rather than the right given the relative size of the blue and red bars. The answer boils down to expectations. Congressional Democrats expected to be (a) included in the compromise and (b) a part of a populist fight to buck the high income rate cuts, no matter what the final deal looked like. By negotiating alone, the White House got a good deal from the other side at the cost of losing the goodwill of their own side.
Second, progressives might argue with this graph by claiming that the folks claiming $114 billion in the deal are about two percent the size of the folks getting $238 billion. In other words, if these were "per capita" graphs, the red graph would be a skyscraper and the blue graph would look like one single-floor home. That is an accurate observation, but the better way to think about that picture would be to acknowledge that the White House had to buy the skyscraper to pay for a hundred million single-floor homes.