Third Quarter Service Sector Revenue Up 3.3%
As the U.S. economy recovers, the service sector is beginning to regain its strength. Although its rebound has been slow, the industry's revenue is up 3.3% in the third quarter compared to the same period in 2009, according to data from the Census Bureau. While this broadly indicates that services are headed in the right direction, some sub-sectors are doing better than others.
Before getting into the winners and losers, here's a chart from the Census Bureau that shows selected sector growth over the past seven years: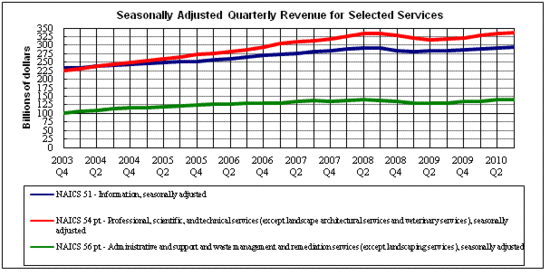 Unfortunately, this isn't the full picture, since seasonally adjusted data is only available for a handful of service sectors. But it's pretty clear that the revenue of these selected industries has been improving after dipping during the recession. In fact, they all appear to be at or above their pre-recession revenue levels.
The Census Bureau also provides the year-to-date scorecard for the broader list of service sub-sectors. Transportation and warehousing has improved the most, with revenue up by 5.7% this year. Administrative, support, waste management and remediation services have also had a strong year, with 5.2% growth. Professional, scientific, and technical services are also doing well, growing by 4.8%.
The only sub-sector that has seen a worse 2010 than 2009 is arts, entertainment, and recreation. Its revenue has shrunk by 0.9% in 2010. Within these sectors, that decline is mostly driven by performing arts and spectator sports, where revenue is down 4.0%. Museums and recreation actually both saw more revenue this year.
In general, this news about the services industry conforms to the slow recovery narrative. We're not seeing incredibly steep growth, but we are seeing some growth. This sector's health means a great deal, however. Many services industries are easily shunned by consumers when they begin cutting costs. Their improvement suggests that recession-style spending is beginning to dissipate.