The U.S. Economic Recovery Strengthened in October
The economic recovery in the U.S. is finally starting to look real. A roundup of the October economic data released last month shows that most factors are broadly improving. The single, clear exception, however, is housing. The foreclosure problems that banks have on their hands forced that sector to take a step back in October, but most other parts of the economy were clearly headed in the right direction.
Here's our updated qualitative matrix of significant economic indicators (and our usual disclaimers can be found at the end of the post):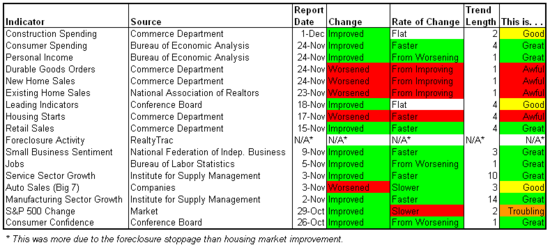 As the note says, it's really hard to consider foreclosures this month, since any decline was probably more due to banks freezing their processes rather than fewer defaults.
On a superficial level, October looks a lot like September. Here's how the comparison breaks down: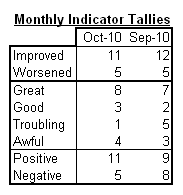 Around the same number of indicators improved and worsened. Yet, there's one key difference between the two months. Just one industry was responsible for almost all of the poor performance in October: housing. Three of the five worsening variables were related to residential real estate, while the other two were auto sales and durable goods orders. So actually, one interesting observation is that all five worsening indicators were related to big ticket purchases.
Meanwhile, everything else got better. And as the tallies above show, most factors got much better. There was only one "troubling" indicator, which was the stock market's performance. It got that grade because it improved, but the month's performance didn't match September's 9% return. Yet, the 4% increase in prices is pretty hard to complain about and probably isn't really all that troubling, despite the grade.
That just leaves the four "awful" verdicts, which again were almost entirely isolated to housing. At this point, it's hard to see how that single industry can prevent the economic recovery from heating up and creating more jobs, even though it's an important one. As business expands, banks fix their procedures, and more unemployed Americans find work, additional home sales will eventually follow. If the economy continues on this path, then we should start seeing renewed demand and more robust hiring before too long.

Disclaimers about the matrix:
This is by no means a completely exhaustive list, but it does take into account many important statistics.
It represents more of a qualitative summary, however, since it just considers directional movement from month-to-month, rates of change, and trends.
There is some overlap.

Also, here's a list of posts that covered some of these October indicators:
New Homes Lead Construction Expansion in October
Income, Spending, and Saving All Rose in October
New Home Sales Down 8.1% in October

Existing Home Sales Fell 2.2% in October
U.S. Economy Finally Adds Jobs in October, but Unemployment Rate Still 9.6%
ISM Shows Service Sector Improved in October
October Auto Sales Decline From September, but Rise From 2009