Small Business Optimism Highest Since Recession Began
Small business may finally be coming around. Although its optimism remains relatively low, it has now increased for four months straight, according to the National Federation of Independent Business. Its Optimism Index hit the highest level since December 2007, when the recession technically began. While businesses are still generally apprehensive about expanding, their pessimism is beginning to recede.
First, here's that Optimism Index: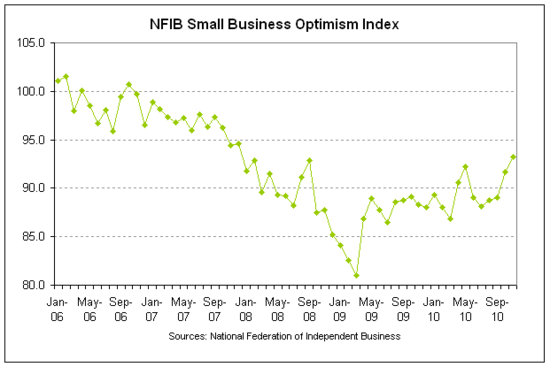 As mentioned, small business owners were as optimistic as they have been in nearly three years. Yet, aggressive expansion probably won't begin until you see the index pass 100, where it stood at times before 2007.
One of the most significant improvements in the NFIB's monthly survey is small firms' outlook for general business conditions. The net percent of small business owners who think business conditions are better rather than worse was 16% last month. That might not sound too impressive, but a better outlook hasn't been observed since February 2005. So this leading indicator clearly suggests that business is looking better for small firms.
Much of the optimism suggested by the NFIB report has to do with expectations, as small businesses didn't see their current earnings and sales increase much in November. But sales expectations matched their April high, which was the best since December 2007.
Similar analysis applies to hiring. It doesn't appear to be ramping up much yet for these firms, as actual employment and job openings didn't change much in November. But hiring plans did rise. In November, the net percent of those planning to increase their workforce was 4%. Again, that doesn't sound great, but it's the best since September 2008. Here a chart on employment from the NFIB report: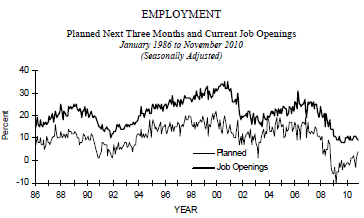 November also had the highest net percentage of these firms planning on increasing their inventories in three years. This could also imply the need for more hiring.
Credit conditions are also improving for small businesses. Although more of these firms expect to find the credit environment challenging than those who expect to find it easier, in November credit conditions were expected to be the most conductive to business since June 2008, before the financial crisis peaked. Interest rates are also declining.
Despite better expectations, 30% of firms named poor sales their biggest problem. They remain the most significant obstacle for the sector. Other major problems included taxes and government regulation, ranking second and third.
While this report is encouraging, small business is not yet in expansion mode. As the recession continues, and sales rise, things are getting better. But these firms need to see much stronger demand before they will hire very aggressively.