Should December's Dip in Consumer Confidence Worry Us?
Despite the strongest holiday sales since 2005, consumers were feeling less confident about the U.S. economy in December than they were in November. The Conference Board's Consumer Confidence Index declined to 52.5 from 54.3 in November. This is a pretty disappointing result, considering it had risen for two-straight months leading up to December. Should this news worry us about how the recovery will fare in 2011?
First, here's the chart for the Consumer Confidence Index since mid-2009: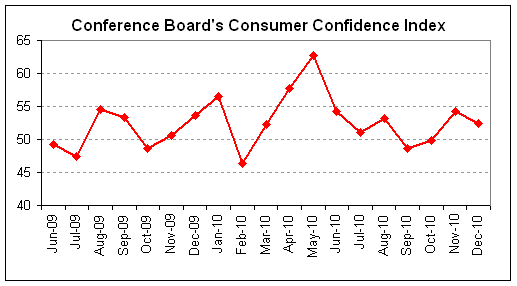 It's sort of hard to compare December's value to other months, since there's so much up-and-down movement. But we can at least say that confidence is still significantly higher than it was in September or October. It's also only slightly below where it was a year ago, which means that confidence didn't improve much throughout 2010, but it also didn't get much worse.
Looking at the index's three-month average gets rid of some of the noise contained in the chart above: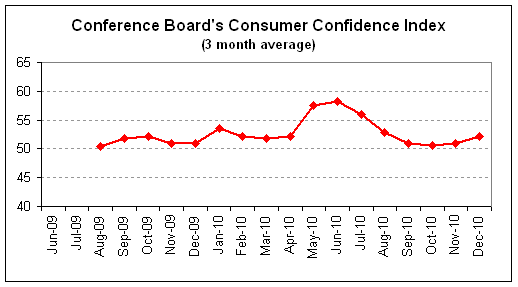 The axes and time period in this chart are left the same as in the first chart, so you can compare the two. The chart shows that confidence is definitely improving a little, but very, very slowly. While it has been a little better in late 2010 than in late 2009, it isn't nearly as strong now as it was going into the summer.
The Conference Board's other sentiment indicators, including their Present Situation Index and Expectations Index, were also down slightly in December. Why were consumers less confident about the economy in December than they were in November? It could have something to do with the labor market's struggle to recover. The unemployment rate increased in November, and relatively few jobs were added to the economy. Until an enduring recovery begins for employment, confidence will have trouble making much progress.
Yet despite the decline in confidence, we learned earlier that holiday sales were way up this year. It will be interesting to see whether Americans will continue to spend more aggressively in 2011 as well. If they do, then that increased demand could be enough to spark more aggressive hiring on the part of firms, which will begin to make consumers feel better about the U.S. economy's direction.